Custom text messages, also called session messages, are the ones you can send only as a reply to a prior message from your contact. You have 24 hours to send a custom text message. Apart from text, it can include other types of content, such as images, audio files, documents, or videos. User-initiated conversations begin when a customer sends any message to your business without prior opt-in. In contrast, business-initiated conversations require prior customer opt-in and start with an approved template message.
Both types of conversations trigger a 24-hour customer service window, during which all exchanged messages are associated with the conversation. Since a custom message can't be set up as a conversation starter, you can only publish them, without scheduling involved.
Create a WhatsApp custom message
In the Campaign menu, go to SMS > WhatsApp messages.
On the listing page, click Create message.

Give your message a unique name.

Add message tags (optional).

Select a message type: Custom text and click Save.
Now that. you're in the WhatsApp composer, enter the message text in the text box. You'll see an instant preview on both iOS and Android phone screen.

Note: The character limit for a basic WhatsApp message is 1,600 characters. When using personalization (dynamic content), the limit decreases to 1,024 characters.

If you want to attach media files to your message, d

rop the files onto the defined screen area or click Upload to browse the files on your computer. You can also click Add external link if your desired file is located on the web. If you don't want to add media to your message, click the Media toggle to turn it off.

To check how your message will look on a smart watch, click the preview button.

You can switch between the phone and watch screen previews by clicking the device icons.

When the message is ready, click Publish. You'll see a review of your custom text message including: message preview, contact source, connected campaigns, and the number of contacts with consent.

If you are happy with the result, click Publish. In case you need to correct anything, click Cancel and go back to the composer.
WhatsApp custom message types
Custom messages in WhatsApp can contain different interactive elements or rich media, which you can select in the Design tab. To choose a type of message or attachment you want to add, select an item from the Content type dropdown menu: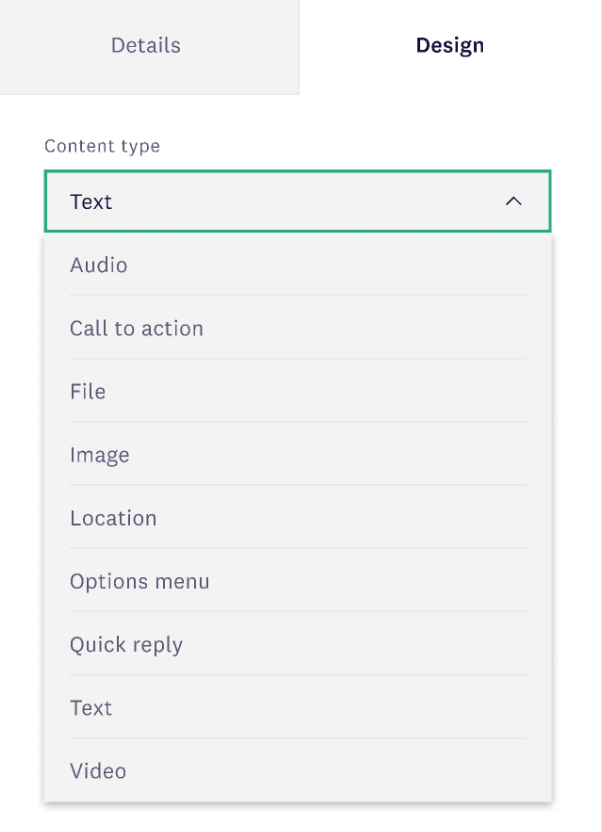 Text
The basic form of a WhatsApp message consists of text only. You can link to a website by adding a URL to the message text, which enables link tracking by default. If the OG image for the linked page is large enough, it will show in the preview.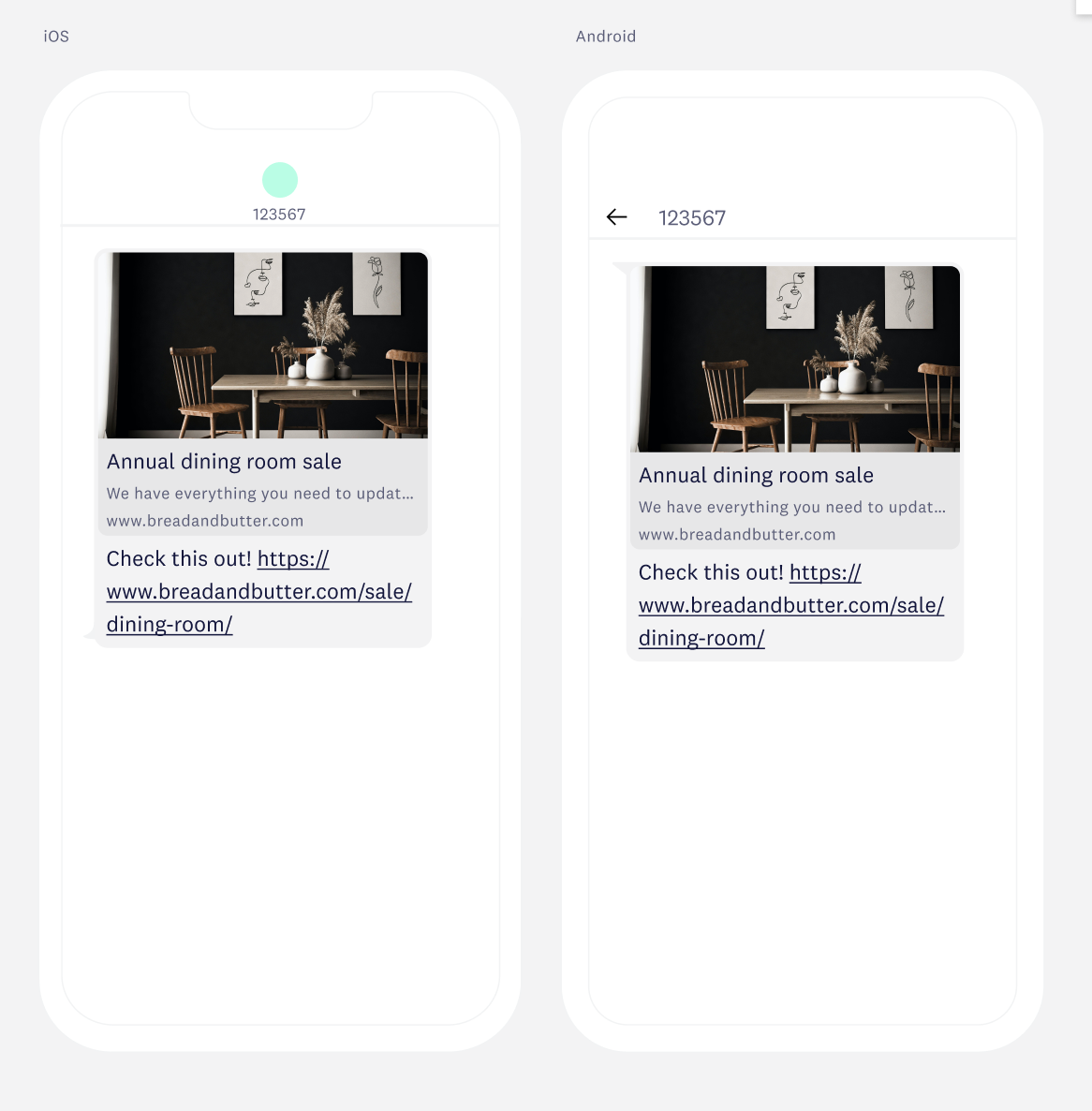 Visual media with text (image, video)
When you attach an image of video to your message, the media file will display above the text. Make sure to attach your files in the following formats:
JPG, JPEG, PNG for images
MP4 for videos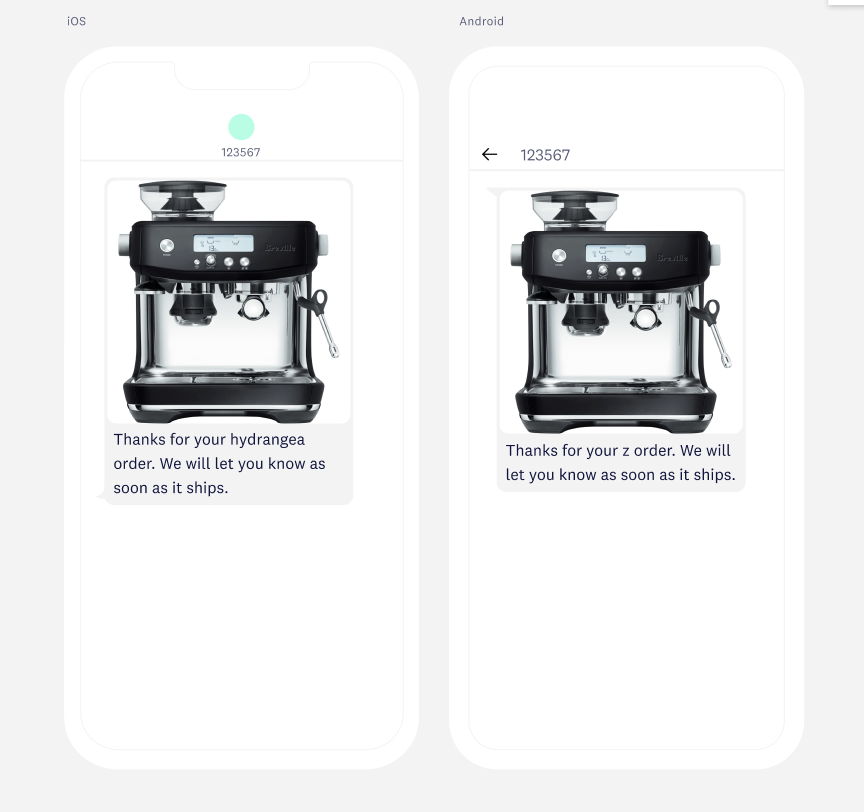 Audio files, PDF documents, and VCF
Apart from images and videos, you can provide customers with other types of content useful for different scenarios: audio recordings, PDF files, or an electronic business card in the VCF (vCard) format.
Note: A custom text message with audio, document, or contact information attached has no text content. Make sure you're sending this type of content only when the customer knows the full context of such a message.
An uploaded recording, music, or other audio content message will show a Download icon and indicate a file format. Accepted audio formats include: MP3, OGG, AMR.

With a PDF document attached, the message will include the file title and size.

With a vCard attached, the message will include the contact name and two call to action buttons: the customer can message the attached contact directly or save contact data on their device.

For document attachments, WhatsApp accepts only PDF and VCF formats.
Options menu (list picker)
One of the interactive elements in a WhatsApp message is an options menu, also called list picker. The customer will see a button that reveals a list of up to 10 clickable items. Each item is marked with a unique item ID so that it's easier to reuse in automation scenarios and avoid entering a direct URL every time.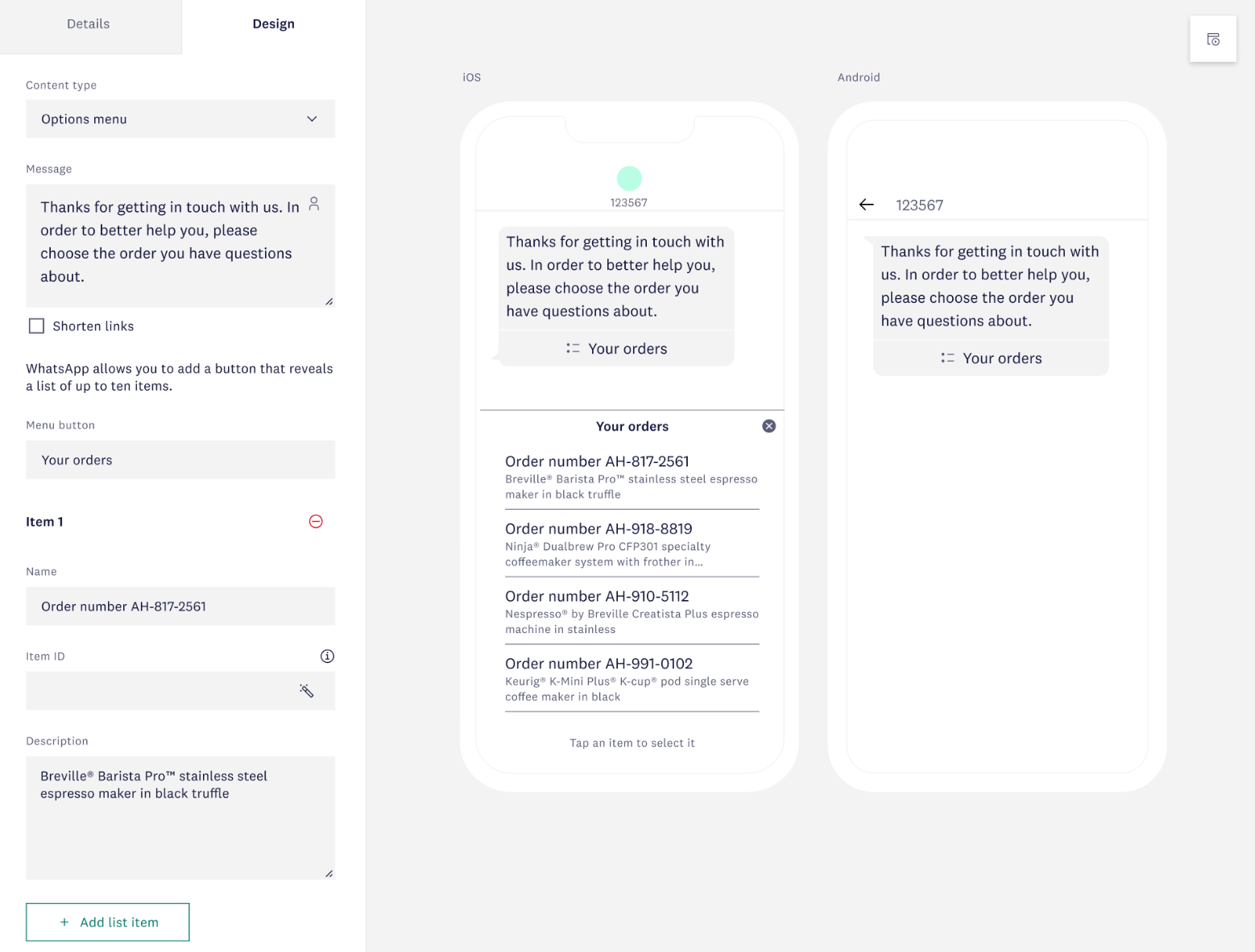 Location
Mandatory parameters for location:
latitude (value between -90 to +90)

longitude (value between -180 to +180)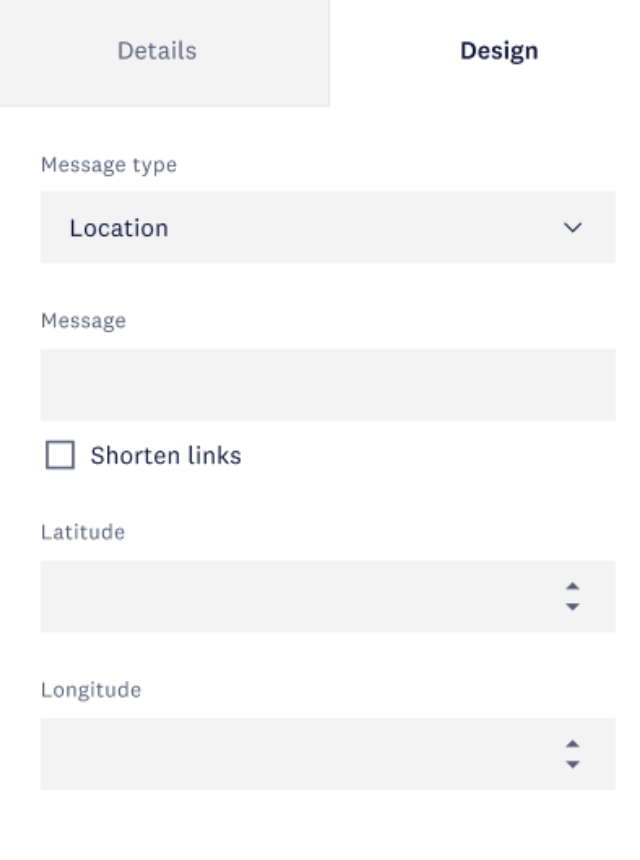 Quick reply buttons
Add up to 3 quick reply buttons from a rich content dropdown menu. Each button text can take up to 20 characters.
In the Design tab, select Quick reply buttons from the Content type menu.
Enter the message text.
Enter the button texts. If you need less than three buttons, remove the extra ones by clicking a red minus icon.