As composers, your task is to create content that can be used in various media or channels.
You create content based on the standard provided by your managers and leads. They have already created a standard content type to meet the company's requirements. For example, they have created a content type called "Article".
The content types that your managers created provide the elements of information that are valuable and required for your company. They are not concrete pieces of content. It is you who creates the content.
You can't add or remove elements from content forms. The fields that are displayed on a content form are determined by the type of content you select when composing content.
The act of composing content for anything is a simple process; you can start to create content by going to your content library and clicking Compose.
From there you would select a type of content you want to compose. Say, for example, an article. Provide a name for your content item and choose the library where you want it to be stored.
Once the Article content item is created you can start adding content to the predefined elements that you see in the editor. For example, say the Article content type created for your company looks like this.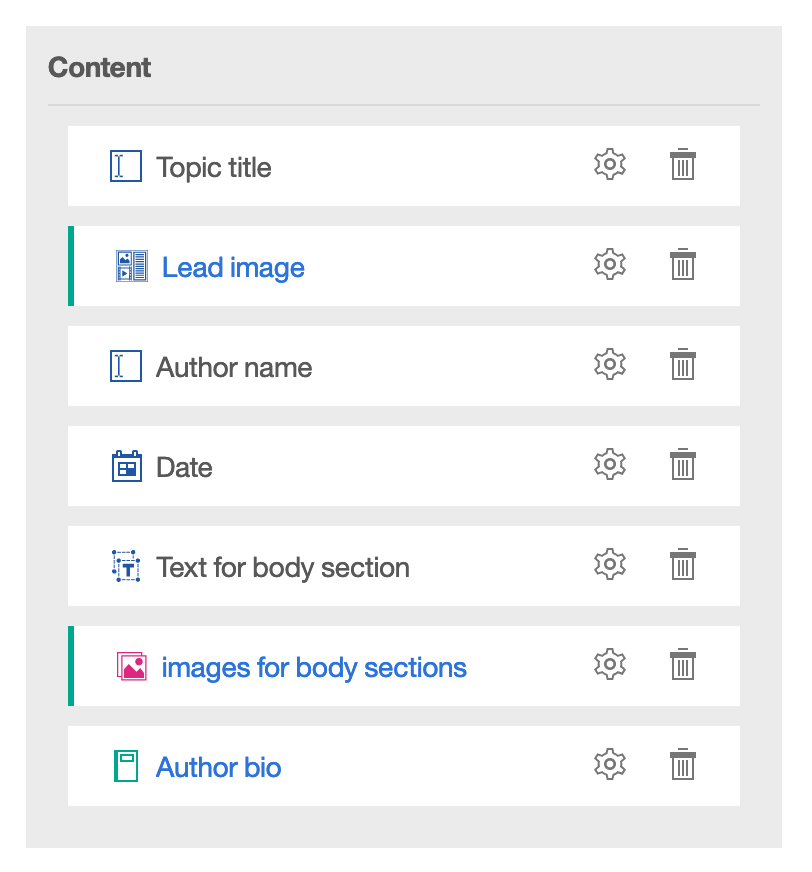 You would start filling out the elements, for example
Topic Title --- Greenhouse
Lead image --- add an image of plants
Author name --- Jane
Date -- 5th Aug 2020
Text for body section -- content for the article
Images for the body section
Author bio -- Content Author, Acoustic
Then, you can add more details to your content item Greenhouse by adding tags, reviewing the AI tags added by Acoustic Content, assign categories, usage rights, and metadata.
You can also see the references related to this content item, such as the other associated content items and image profiles.
As you edit your content item, you can send them for review and view other's comments so you can complete creating your content item in an agile way.
Users of the Standard edition, who can also compose content directly for websites and landing pages, should remember that this content can also be reused in other channels.