October 2021
Avoid dropping link clicks with eluminate.js update
We observed that the eluminate.js data collection library was not generating automatic Link Click tags in cases where the HTML anchor click navigates offsite or to a new document. To fix this, add cm_UseCookie = true; to your tag manager or other mechanism used to include Digital Analytics in your pages.
Find out more about eluminate.js and see the example implementation script here.
This applies only to version 4.23.200 or newer. If implemented in older versions, you will see tagging errors and failures in tags.
October 2020
Custom dashboards
We know every company has different reporting needs. That's why we give you the flexibility to design your own custom dashboards in addition to the capabilities we offer for real time and enterprise dashboards. You can create them now by navigating to dashboards and selecting the "+" icon. Add reports, KPIs, and visualizations to create a completely custom view, allowing you to easily share data with others in a visual way and quickly check on your site's performance. Find out more about Custom dashboards.
Improvements to the Top Line Metrics reports
We've been continuing to improve our reporting experience and we've made some updates to the Top Line Metrics reports. You now have more metrics than ever to get a complete picture of your visitors and overall website performance: 
Custom Tags
New Buyer %
Repeat Buyer %
Mobile Device Sessions
Mobile Device Sessions %
Average New Session Length
Average Repeat Session Length
US Sessions %
New Buyer / New Visitor
Repeat Buyer / Repeat Visitor
Abandoned Shopping Carts
New Sessions
Repeat Sessions
Average Shipping & Handling
Check out more in Top Line Metrics report.
LIVEmail
LIVEmail is a precision email marketing application that helps with the creation and execution of targeted email campaigns. It improves open, click-through, and conversion rates as well as customer engagement and satisfaction levels for your email channel. With LIVEmail, you can send exports to your chosen email service provider and build best practice campaigns. This is a paid add-on for Digital Analytics. Those who are entitled to this functionality will find it in Build > Export.
Find out more about LIVEmail and how it can help improve your email campaigns.
Invalid reports
Digital Analytics now provides three reports to help you identify and troubleshoot tracking links: Invalid Marketing Programs, Invalid Real Estate, and Invalid Site Promotions. You'll find these reports in the acquisition and behavior standard workspace. They can help you identify links that are improperly formatted or are missing elements.
Other import options
Multichannel: you can now import your offline transaction data for individual items and orders and analyze that data in reports.
Data extensions: add data from other sources to reports that analyze visitors' online behavior. You can import up to 50 attribute fields associated with a specified data tag type or one of a select list of data objects. The 50 attributes are in addition to the 50 attributes you can pass via page tags.
Visitor registration: import customer attribute data to augment visitor profile data. You can use this data for ad hoc analysis only.
More metrics added to the Top Products standard report
Buying sessions and item sales are now available on the Top Products standard report for enhanced analysis of your top-performing products.
Updates to scheduled reports
Report emails will now begin sending the same day you create an email schedule, assuming the full range selected in the calendar is available. For example, if you set up a report to be emailed daily, you'll receive an email that day with the most recent data (yesterday's data) included. Each day, the data will continue to roll forward so you're receiving the most recent data.
Holiday Readiness Program
Bring it on, holidays! Be prepared for the upcoming holiday season with Acoustic's new 2020 Holiday Readiness Program. Download our product-specific guidelines for recommendations to optimize peak program activity.
Our Support and Services team is available to help make your peak season successful. If you should need any assistance, please let us know how we can help.
September 2020
Time to log in with your Acoustic ID
Over the past several months, we've been slowly rolling out Acoustic ID for all supporting websites, but now we're ready for product use. Your Acoustic ID now replaces your IBMid to log in to our products. For more information, check out Create an Acoustic ID.
My Acoustic: One step closer to a unified platform
Easily manage your profile, and if you're an admin, your users, with our new user management interface. From My Acoustic, you can view details and manage each subscription for your company. For more information, check out View or manage your subscription.
My products has a new home in your banner
From My products, you can switch to a different product, learn about other solutions from Acoustic, or turn on beta features if they're available for your product.
My products has a new home in your banner:


July 2020
Dashboards
Create dashboards with the exact metrics, visualizations, and report snapshots you need to quickly gather insights. Just click on "Dashboards" in the left reporting panel to get started. Choose from a variety of visualization options, apply comparisons, create views, and share with other users – all from our newly designed interface! Updates to other areas of Digital Analytics, like reports, admin, and import/export are coming later this year.
In the Real-Time Dashboard, you can see near real-time data for your key KPIs, sales, and session metrics. The dashboard will update every few minutes, allowing you to make data-driven decisions on the fly.
The Enterprise Dashboard allows you to see a complete view of real-time and historical information for all sites that roll up to an enterprise. Note: you must be an Acoustic Analytics enterprise client to see and use this dashboard.
New ways of reporting, downloading data, and more...
The Extended Data Download feature generates a downloadable version of any flat list or hierarchy report that exceeds the 50,000-row limit. The downloaded CSV file contains up to 1,000,000 rows of data, allowing for enhanced data analysis outside of the Digital Analytics interface.
You can create custom metrics based on a specific segment, filter, or tag attribute directly from the ad hoc metrics modal. A segment or filter narrows down the metric to the criteria matching the segment or filter, and an attribute metric will allow you to create a count or sum metric based on the selected attribute. The new intraday reporting functionality will update data on select reports, like Top Line Metrics, throughout the current day. You can even trend by the hour on Top Line Metrics!
Finally, you can now apply a comparison on the Marketing Channels and Marketing Programs reports. As with other standard reports, simply click "compare" in the top right section of the report and select your comparison dates and/or segments.
Read more about the upcoming changes and materials for the transition to the new UI here: We just released some big updates in July...and more are coming in August!
Reminder: legacy is read-only as of September 1st, with no new data processing. All transitions to the new UI should be complete at this time.
April 2020
Introducing the new Acoustic domains!
We've launched our Acoustic-branded domains! This includes new Acoustic domains for the user interface as well as domains for API integrations and SFTP connections.
Note: welcome.coremetrics.com is not impacted at this time.
For additional details, go to our Acoustic URLs page. We recommend you begin using the new URLs as soon as possible. The IBM-branded domains will be discontinued after June 30, 2020.
You can access the new links from the username dropdown in Digital Analytics. Watson Assistant has been removed and will be replaced by an Acoustic search tool this summer.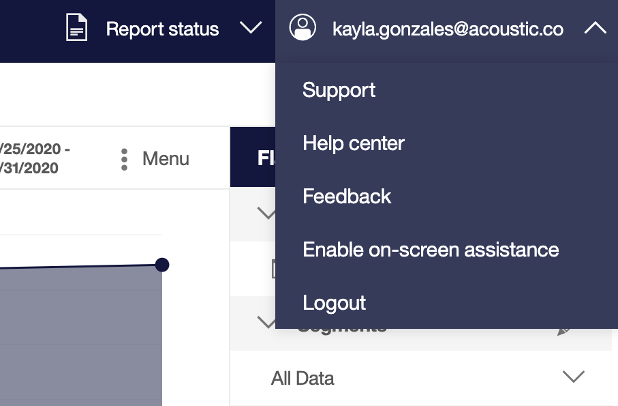 These links have also been updated in the legacy version of Digital Analytics and are accessible from the upper right corner of the interface. 

Note: You will need an Acoustic ID to open support tickets. If you need assistance accessing the new support portal, go to our help center.
We've also updated legacy Digital Analytics!
In addition to the new support, help, and feedback links, we've made a few changes to the legacy Digital Analytics interface to better reflect the Acoustic brand. This includes updates to the login screen, navigation bar, privacy policy, and copyright information.