Here is some information to help you get started with Digital Analytics.
Standard and Ad-hoc reports
It provides two types of reports that you can use to analyze your application.
Standard reports are pre-configured and pre-processed reports. They provide data on marketing, content, conversion events, systems, demographics, search terms, and more.

Your options:

modify by adding/removing available metrics
modify by applying one or more segments
display trends for different time periods (daily, weekly, monthly)
save as views so you can return to specific customizations of a report
toggle between different views and Manage Views to modify them

Ad-hoc reports are customized reports that you build and generate on your own. Ad-hoc reports help you analyze customers' activity on your website. You can use workspaces to group your reports for easier access and sharing.
Before you can start using reports in Digital Analytics, user data must be collected from client sites. Digital Analytics uses JavaScript functions calls (also known as "tags") to collect user data from client sites. Tagging must be implemented for your client site before Digital Analytics can start collecting user data. For information about how to implement tagging on your site, see the "Implementing" topics.
For information about how Digital Analytics collects user data, tracks session and visitor activities, and handles image requests for secure pages, see the following topics:
Logging into Acoustic Digital Analytics
You can seamlessly log in to our products and supporting websites with one single identity: our Acoustic ID.
Toggling between different client IDs
When you're logged into Digital Analytics, you can switch between client IDs that you have access to. To switch client IDs, go to the User menu in the main navigation and then to Switch Accounts. All the Client IDs that you have access to are shown. Click the Client ID that you want.
Choose between segments and filters
Much of the power of Digital Analytics lies in its flexible segmentation and filtering capabilities.
What is the difference between a segment and a filter?
A filter narrows the report to just those rows that exactly match your criteria. A segment limits your report to just the sessions that match your criteria. For example, let us assume that 3 sessions occurred on your site today:
Session 1 visited HOME, then SPORTS, then HOME, and exited.
Session 2 visited HOME, then BUSINESS, then SPORTS, then BUSINESS, and exited.
Session 3 visited HOME, then BUSINESS, and exited.
A result of the activity would look like the following table:
An example of total activity for site
| | | |
| --- | --- | --- |
| Page | Sessions | Page Views |
| Total | 3 | 9 |
| Home | 3 | 4 |
| Sports | 2 | 2 |
| Business | 2 | 3 |
If you apply a filter of Page Contains Sports you only consider rows matching your criterion and the report looks like the following table:
| | | |
| --- | --- | --- |
| Page | Sessions | Page Views |
| Total | 2 | 2 |
| Sports | 2 | 2 |
If you apply a segment of Page Contains Sports you consider all sessions matching your criteria and get results from session 1 and session 2 (but not session 3) as shown in the following table:
| | | |
| --- | --- | --- |
| Page | Sessions | Page Views |
| Total | 2 | 7 |
| Home | 2 | 3 |
| Sports | 2 | 2 |
| Business | 1 | 2 |
Use a Filter to isolate your report set to your view of the world (for example, only articles written by Smith or only products of the Reebok brand). Every data row in the result set will match your filter criteria.
Use a Segment to:
Perform relational analysis (for example, of those who arrive through our email campaigns and view 3 or more pages in their session, who complete which conversion events?)
Understand affinities (for example, those who look at products within our Fishing category also look at what other product categories during their session?)
Understand visitor personas (for example, Engaged Visitors vs. Googlers vs. Sports enthusiasts)
How to create segments to apply to standard reports
When you apply a segment to a standard report, you'll also need to set a date range for the segment – this is the range the segment is available to apply to a report. If the range selected on the report does not overlap with the segment date range, the report will default to the last date available for the segment. The segment date range must be selected when first applying the segment to the report, in this modal (note the "modify" option):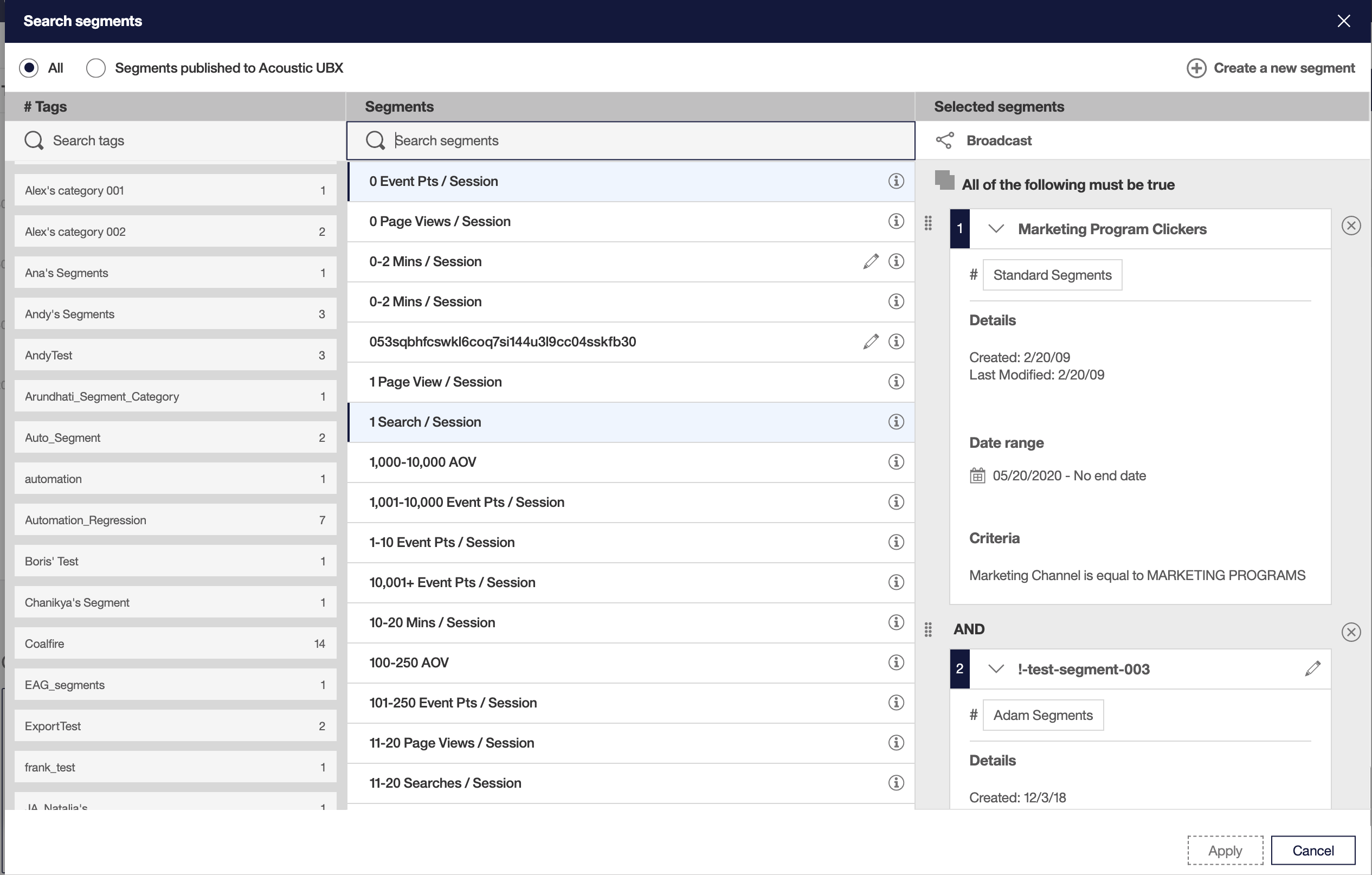 It is recommended that when selecting the date range for a segment, you set the start date far back enough that it covers your reporting needs and set no end date so it will be available when using it again in the future.
The segment will then take some time to process. Once it's processed, you can immediately apply it to the report by clicking it in the segment dropdown: