You can track many types of visitor data within the Acoustic Digital Analytics:
Traffic across devices
Traffic across sessions 
Visitor behavior patterns over time
Data across owned web properties 
Logging into Acoustic Digital Analytics
You can log in to Digital Analytics using either your Digital Analytics credentials or your Acoustic ID.
To log in, go to
If you choose to log in using your Digital Analytics credentials, you will need your client ID and Digital Analytics username and password. This information is provided when the user account is created in Journey Analytics user management. If needed, you can reset the password for this account by clicking the "Forgot password" button.
You can also log in with an Acoustic ID. This is the same set of credentials you can use when logging into other Acoustic products or when accessing extensions like the support and ideas portals. When logging with an Acoustic ID for the first time, you'll need to link it to your Digital Analytics credentials. You can link your Acoustic ID to one Digital Analytics client ID.
Need an Acoustic ID? Find more details in Create an Acoustic ID.
If you're a federated customer, you can also log in with your company's credentials. For more information about federation, see Get started with federation.
For security purposes, Acoustic allows 3 attempts to log in with your Acoustic ID before it's locked for an hour. When logging in with your Digital Analytics account, after 3 incorrect attempts are made to log in, a password reset email will be sent to the email associated with that account.
Toggling between different client IDs
After logging into Digital Analytics, you can switch between client IDs that you have permission to access. To switch client IDs, click "Switch client ID" at the top of the left configuration panel. All the client IDs that you have access to are shown in the list, and after selecting the ID you'd like to switch to, the interface will reload with the data specific to that client ID.

Standard and Ad-hoc reports
Digital Analytics provides both standard reports and ad-hoc reporting capabilities that you can use to analyze the activity on your site. Standard reports are organized into various workspaces within the Standard Workspaces section. Ad-hoc reports live in the My Workspaces section and are organized based on the workspaces that you define.
Tip: Read more on workspaces in our help center.
Standard reports are pre-configured and pre-processed reports. They provide data on marketing, content, conversion events, systems, demographics, search terms, and more.
You can engage with these reports in the following ways:
add/remove available metrics
apply segments and filters
display trends for different time periods, including hourly (enabled for some reports, like Top Line Metrics), daily, weekly, monthly, quarterly, and yearly
export or schedule for recurring email delivery
compare two different date ranges and/or segments
save any modifications to views so you can return to specific versions of a report
Ad-hoc reports are customized reports that you build and generate on your own. You select the exact breakouts, metrics, segments, filters, etc. to apply that fits the use case you need to analyze. There are a variety of report types to select from, including:
A flat list: shows data in a flat structure and is ideal for analyzing a large data set.
Hierarchy: shows values for one display column based on the value of another display column. For example, you can view the most popular brands in each product category with a hierarchy report.
Custom group: creates expandable groups using advanced filter logic. Choose various filters to act as categories and see dimensional values and the associated metrics that relate to that specific category upon expanding.
Segment compare: allows you to analyze and compare visitor segments against your key performance indicators.
True path: shows visitor behavior along defined paths on your website.
Click stream: displays paths that visitors take through your website before or after they visit a page.
Before you can start using reports in Digital Analytics, user data must be collected from client sites. Digital Analytics uses JavaScript function calls (also known as "tags") to collect user data from client sites. Tagging must be implemented for your client site before Digital Analytics can start collecting user data. For information about how to implement tagging on your site, see our tagging implementation.
For information about how Digital Analytics collects user data, tracks session and visitor activities handle image requests for secure pages and manages personal data, visit our data collection page.
Segments
Segments are tied to a specific date range. The ones that are not available for the selected report date range are disabled (greyed-out). You will see a tooltip with relevant information on hover, as seen in this example: 

How to create segments to apply to standard reports
When you apply a segment to a standard report, you'll also need to set a date range for the segment – this is the range the segment is available to apply to a report. If the range selected on the report does not overlap with the segment date range, the report will default to the last date available for the segment. The segment date range must be selected when first applying the segment to the report, in this modal (note the "modify" option):
It is recommended that when selecting the date range for a segment, you set the start date far back enough that it covers your reporting needs and set no end date so it will be available when using it again in the future.
The segment will then take some time to process. Once it's processed, you can immediately apply it to the report by clicking it in the segment dropdown: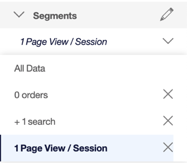 Choose between segments and filters
Much of the power of Digital Analytics lies in its flexible segmentation and filtering capabilities.
What is the difference between a segment and a filter?
A filter narrows the report to just those rows that exactly match your criteria. A segment limits your report to just the sessions that match your criteria. For example, let us assume that 3 sessions occurred on your site today:
Session 1 visited HOME, then SPORTS, then HOME, and exited
Session 2 visited HOME, then BUSINESS, then SPORTS, then BUSINESS, and exited
Session 3 visited HOME, then BUSINESS, and exited
The result of the above activity is contained in the following table:
| | | |
| --- | --- | --- |
| Page | Sessions | Page Views |
| Total | 3 | 9 |
| Home | 3 | 4 |
| Sports | 2 | 2 |
| Business | 2 | 3 |
If you apply a filter of "Page contains Sports", the report will update to only display the rows matching your criteria:
| | | |
| --- | --- | --- |
| Page | Sessions | Page Views |
| Total | 2 | 2 |
| Sports | 2 | 2 |
If you apply a segment of "Page contains Sports", the report will update to reflect all sessions matching your criteria and show results from session 1 and session 2 (but not session 3) as shown in the following table:
| | | |
| --- | --- | --- |
| Page | Sessions | Page Views |
| Total | 2 | 7 |
| Home | 2 | 3 |
| Sports | 2 | 2 |
| Business | 1 | 2 |
Use a filter to isolate your report set to your view of the world (for example, only articles written by Smith or only products of the Reebok brand). Every row in the result set will match your filter criteria.
Use a segment to:
Perform relational analysis (for example, of those who arrive through our email campaigns and view 3 or more pages in their session, who complete which conversion events?)
Understand visitor personas (for example, Engaged Visitors vs. Googlers vs. Sports enthusiasts)
Understand visitor personas (for example, Engaged Visitors vs. Googlers vs. Sports enthusiasts)