Here are some limitations when adding content to transactional emails.
Multiple Body types
Multiple body types (MIME format) are not sent. Only the body type that is designated in the XML Submit document is sent.
If you want to send text emails and HTML emails, you must create separate email templates and separate Automated Messages for the different types of emails. However, you can use the same database for either email type.
HTML
To compose by using HTML, you can paste the HTML code into the form, or you can upload a file from your computer (click the Import HTML button). You can also include hyperlinks in the form, provided that they are in proper HTML format.
Hyperlinks
You can add hyperlinks in the XML CDATA code. When you click Save, the hyperlinks are converted to a Transact-compatible link. To edit the link, click the Hyperlinks tab to display the Edit form.
Social Networks Shares
You cannot use Social Network Share data.
Relational Tables
You cannot use Relational Table data.
Dynamic Content
To permit dynamic change in the content, place the message content in the XML Submit document CDATA.
For standardized messages, put the message in the template and create multiple templates with multiple messages. Refer to Dynamic Content for details.
Personalization
You can add personalization tags from the fields that are created in your database. However, you can also personalize your email template without having those fields in your database, by adding personalization tags to the body of a email template. They correspond to personalization tags defined in the database fields or in the Transact XML Submit document.
Personalization in the XML Submit Document
You can also pass the content for personalization tags in the XML Submit document, but you must include them as fields in the template if you are using them to substitute values from XML tags. In addition, if you want to save the values for these fields, you must also include them in the database fields.
In the example below, the user defined the personalization tag %%WORLDAIR_CONFIRMATION_BODY%%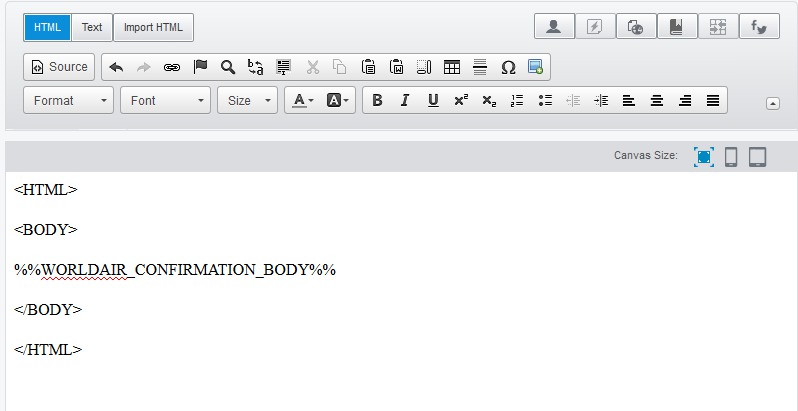 The personalization tag is the only content in this email template. The content for the tag is passed in the XML Submit document in the TAG_NAME / VALUE element as HTML in a CDATA section. The HTML can include the entire email body. Information in the submitted XML document must correspond to the template field (personalization) tags, which are shown in the XML Submit document example below:
<XTemail>
<RECIPIENT>
 <EMAIL>somebody@anotherdomain.com</EMAIL>
 <BODY_TYPE>HTML</BODY_TYPE>
 <PERSONALIZATION>
 <TAG_NAME>World_Air_Confirmation_Body</TAG_NAME>
 <VALUE><![CDATA[This is the <b>body</b> of the email.]]></VALUE>
 </PERSONALIZATION>
 </RECIPIENT>
 </XTMAILING>
Settings for Tracking
Tracking determines how the email is tracked and reported in email reports. Unique tracking is the most common type of tracking selected. It is the default setting for an email and provides detailed reporting for all contacts.