The growth report shows changes in size over time of a database or contact source. It includes information on total contacts, total snoozed, and changes in contacts. The data for this report is generated daily, and new contacts are attributed to the day of calculation and not the day of actual contact change.
When the report's time window is changed to custom, the 12 AM - 2 AM window is filled, even if contacts have been added at another time.
You must have the correct permissions to view the Data Growth Report. It is not available for Reporting Only users. Since data sources (databases, queries, contact lists) are not accessible, reporting on them is not available.
Scheduled Report from the "File" menu allows generating a PDF file. The selected hour of generation is dependent on the current user timezone. However, the rest of the growth reporting is independent of the timezone and uses GMT.
In the example below, the generated report shows contacts have been added on the 18th of May, when in fact they have been added on the 17th of May (GMT).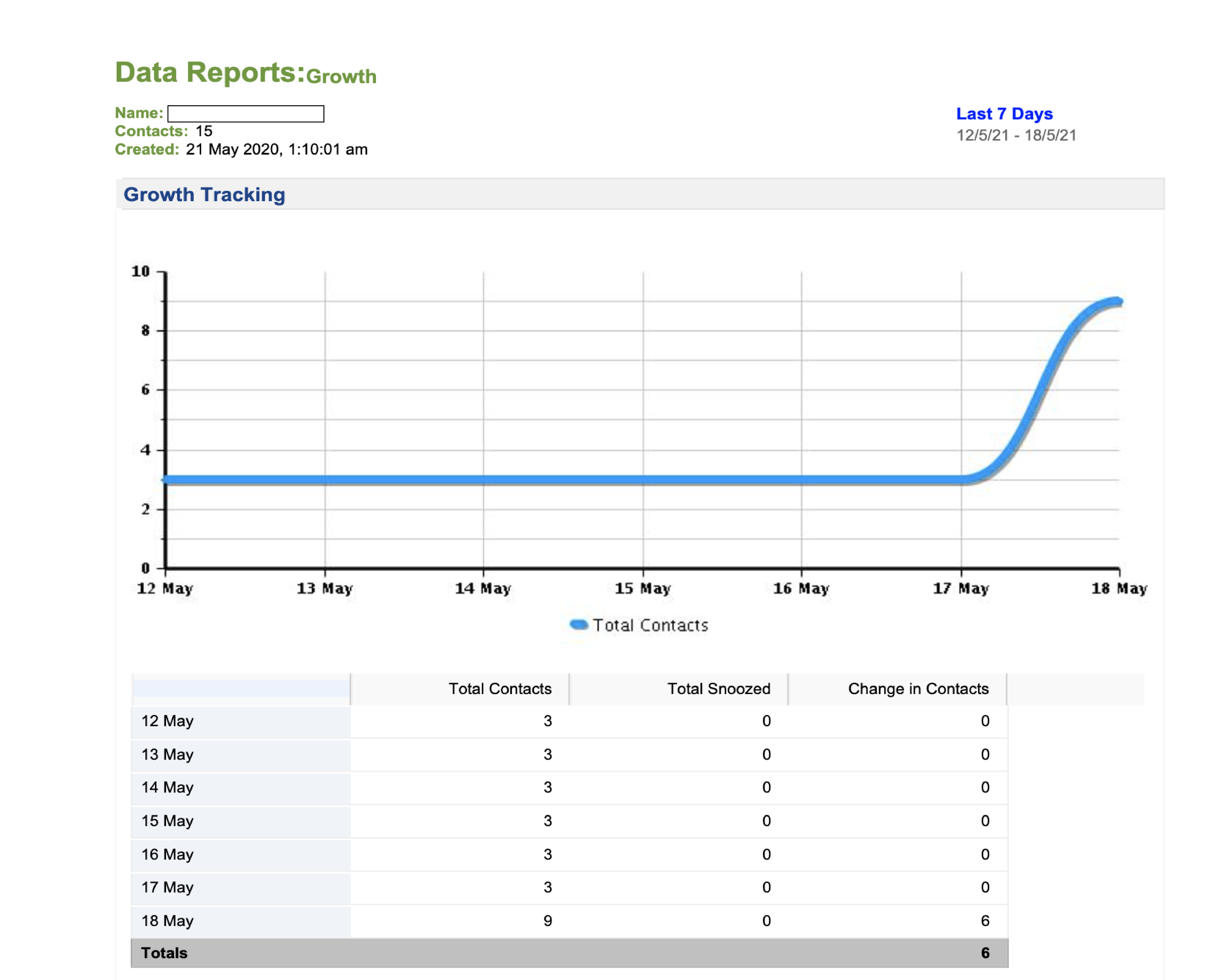 Create a growth report
Open Reports > Reports (classic) > Report center > Data reports > Growth.
Choose the Database or Contact list option from the drop-down menu.
Select a database or contact list.
The Data Reports - Growth opens.
Sharp increases or decreases in data
The Data Growth Report may show a sharp increase or decrease in contacts. Various processes can impact contact count. For example, data purge jobs or mass opt-outs through a list import or update.
If you are an organization administrator, you can go to Settings > Activity reports > All data jobs and look for the following data jobs types:
Purging database, in contact source, your database: A database purge can remove a significant number of contacts from a database.
Opting out contacts in existing contact source, your database: An import/update set to opt-out contacts can significantly change data count.
Non-data job-related actions can also affect database contact count, for example:
Opt-outs in response to a mass email campaign: If you recently deployed an email campaign to several thousand or more contacts, then there's a chance many contacts opted out from your campaign.
XML API calls: Mass removal by using API calls might change contact counts. You might need to ask team members in charge of API-integrated applications if they have recently remove contacts by using the API.
View the change in the size of a database
You can view the Growth Report to see the change in the size of a database. The Growth Report provides information about contacts that subscribed, unsubscribed, are marked undeliverable, or were snoozed. Go to Reporting and select Data Reports > Growth from the left menu. The data for this report is compiled daily at midnight GMT.