You use the Alert Manager to manage your system alerts and to receive an email notification when a critical metric exceeds a particular threshold. Use alerts to monitor activity around important Referring Sites, Top line metrics, Top pages, and Product categories.
To work with many alerts at a time, click the alert checkboxes in the Alert Manager and then select Delete, Activate, or Stop. To perform actions in bulk, click the top alert checkbox to select all alerts. You can also search for alerts.
You'll find the Alert Manager under the Admin section of the primary navigation menu. It displays a list of system alerts, frequency, the name of the person who created the alert, and alert statuses.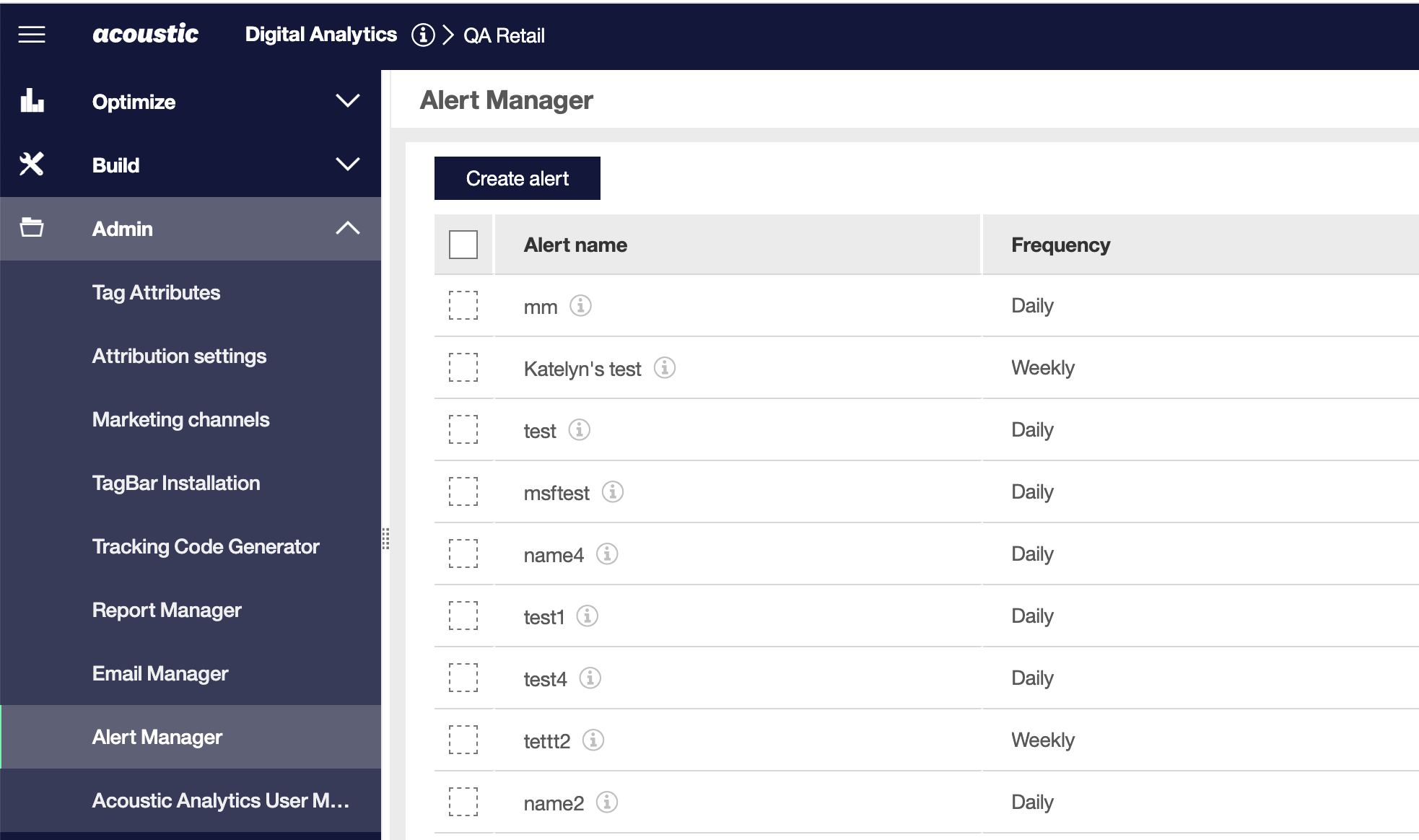 Create alerts
Click Create Alert.
Enter a name for the alert.
Select the reporting category to which the alert applies. Select Top line if you want to create a site-wide metric alert. If you select Products or Referring Sites, you can specify one or more values (that is, specific products or referring sites) by selecting a condition and entering the values in the text box.
Configure the alert condition. You can monitor for either an absolute value or a percentage change over numerous time periods.
Enter the email addresses of the alert recipients. Use commas to separate multiple addresses.
Enter a subject line for the email message.
Specify daily or weekly distribution.
Click Save.
When you create an alert, you choose who receives the notification and how often it is sent.
The notification describes the alert condition and why it was triggered. You can send an alert only to yourself or to others, including members of your organization who do not have access to Digital Analytics. You can alert managers and other key personnel who might not always be logged in to Digital Analytics when significant changes occur in metrics they care about.
Work with alerts
To work with individual alerts, click the vertical three-dot menu on the alert row and select a command: Edit, Activate or Stop, Subscribe or Unsubscribe, or Delete.
All users can view alerts in the Alert Manager and subscribe to email notifications. Only the creator of an alert and administrator can edit, stop, activate, or delete an alert.