Workspaces are customizable dashboards that contain customizable reports.
Your workspace is the command and control center for your data analysis. It is where you add, manage, and share your reports.
Personal and public workspaces can be categorized in a way that makes sense to you and your organization.
Starter (standard) workspaces
A starter workspace contains reports that are populated by a set of ready-to-use events, dimensions, and attributes. They provide immediate access to useful "count" and performance-based data from web and mobile application sessions, providing key insights to users across your organization.
After your web and native applications are configured to capture visitor interactions, and the conditions are met, the ready-to-use events "fire" and data is written to the various reports in the starter workspaces.
Starter workspaces cannot be deleted. For each report, you can select the dates for which you want to view data, but you cannot select different metrics for the reports.
See Discover the reports in the starter workspaces for more information.
Workspace categories
With categories in your personal workspace, you can optimize how you work by creating a data structure for your reports that mirrors what you are working on.
>Create categories in your personal workspace for the various assignments you are working on

The Administrator can categorize public workspaces in a way that mirrors the structure of your organization, making it easier for various department personnel to find the reports they need.
Public workspace categories can mirror department structure in your organization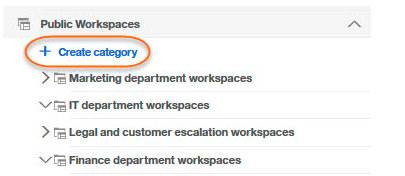 Experience Analytics provides a default workspace. You can use the default workspace, customize it, or create new workspaces to suit your needs.