Updated September 2, 2021
This article assumes you've already created an Acoustic ID for your users or you have an Acoustic ID. See Create an Acoustic ID for more details.
User status
Every user has a status to help administrators manage their users.
Activating: The user has been sent an email to activate their Acoustic ID, but the Acoustic ID has not yet been activated.
Active: The user has completed activating their Acoustic ID and their account is in good standing.
Password expired: The user's password has expired and needs to be changed. Either the user or the administrator can change the password.
Locked: The user has entered their password incorrectly too many times, which locks their account. The user will need to wait for their administrator to unlock the user's account for them. If the user belongs to more than one subscription and has a locked account, reach out to Acoustic support to unlock the account.
Password recovery: The administrator has reset the user's password. The user will get an email prompting them to create a new password for their Acoustic ID.
Manage Acoustic Campaign, Content, Personalization, and Exchange users
User management for Acoustic Campaign, Content, Personalization, and Exchange is in My Acoustic. Creating, editing, and removing users will all be done from My Acoustic.
Manage Acoustic Analytics users
Acoustic ID is enabled for Acoustic Analytics users.
Manage Digital Analytics users
To remove a user from Digital Analytics, remove them from the subscription in My Acoustic, then remove them from the user management as well.
Manage Acoustic Tealeaf users
If an administrator needs to edit a user's permissions to Tealeaf, they'll need to go to Tealeaf user management.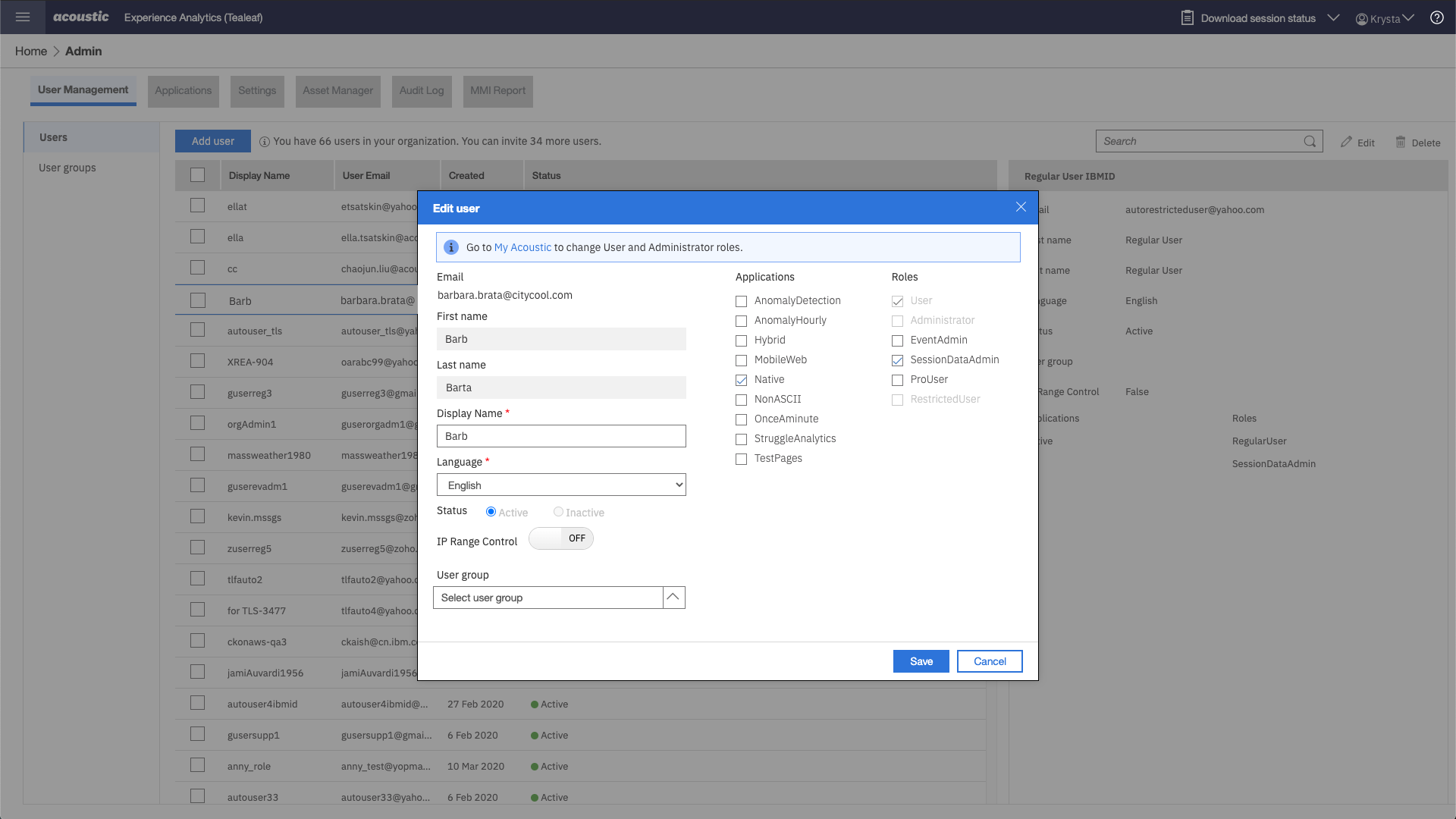 If you need to change a Tealeaf user to an administrator or change an administrator to a user, you'll need to edit the user's role from My Acoustic user management. These roles can't be changed in Tealeaf user management.