Acoustic Insights helps you see the data your company collects, making your work much easier and more effective.
How to access Insights
To access Insights, you need to enable beta features in your Campaign account. To do that, click on the upper-right icon:

At the bottom of a dropdown list, there will be a toggle. Enable it.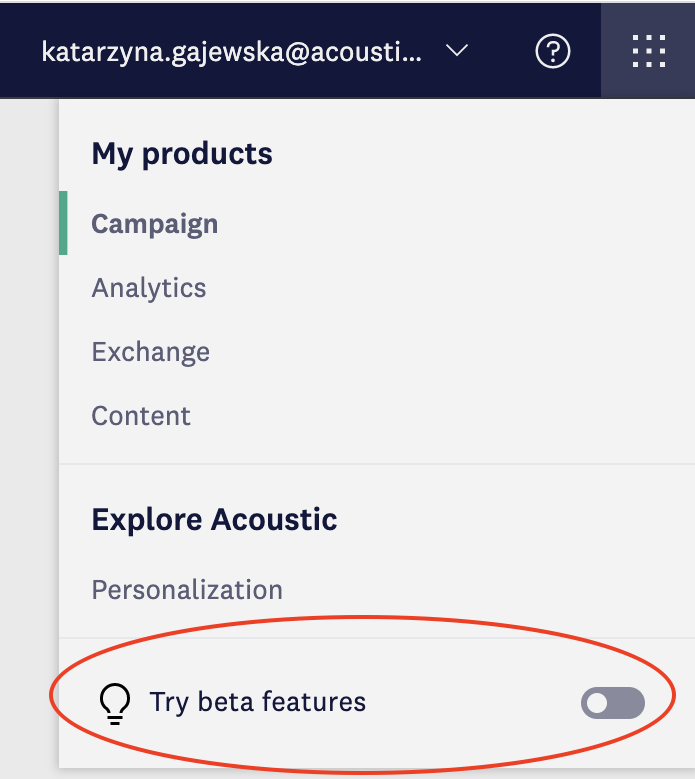 For Insights to work the toggle needs to be green (active):

Now you can log into your Insights. To do so, click on the eye icon in the left navigation.

Organization of dashboards
You can find all your dashboards inside the folders menu - click on the folder icon in the upper right corner. Then choose Shared > Insights. You'll see:
Email channel
Email contact level
Mobile channel
Mobile contact level
Omnichannel
SMS channel
SMS contact level
Note: You'll also have your personal folder ("My Folder"), your favorites, and a group folder.
Navigate between dashboards
Dashboards give you a bird's eye view of your most crucial data, but they also let you drill into other capabilities, such as heatmaps and contact level reports.
From the main Insights page, you can navigate to three central dashboards: Journey, Omnichannel, and Audience health. From there, continue your exploration to more detailed reports:
Journey dashboard
- Journey discovery report → A period-over-period comparison of chosen data ranges.
- Journey performance report → The Sankey diagram lets you see the exact flow from prospect to customers
Omnichannel dashboard
- Email channel dashboard →

Data from the email channel dashboard will allow you to track your performance metrics and analyze advanced statistics for your email campaigns. You can use email insights, such as clicks, bounces, and purchases, to get reporting data and understand the success of each email you send. You'll be able to drill into single mailing and contact level reports, compare mailings, explore the heatmaps of your messages and check out the link history.


- SMS channel dashboard → A

n aggregated overview of your company's SMS/MMS channel metrics. Analyze contact level reports, consent by program, Whats App dashboard, SMS vs. MMS comparison, and link history.


- Mobile channel dashboard → Here, you can

see an aggregated overview of Mobile Push metrics and

analyze contact level reports and link history.

Audience health dashboard
- Audience health detail report → Measure your audience's health by checking daily consent counts.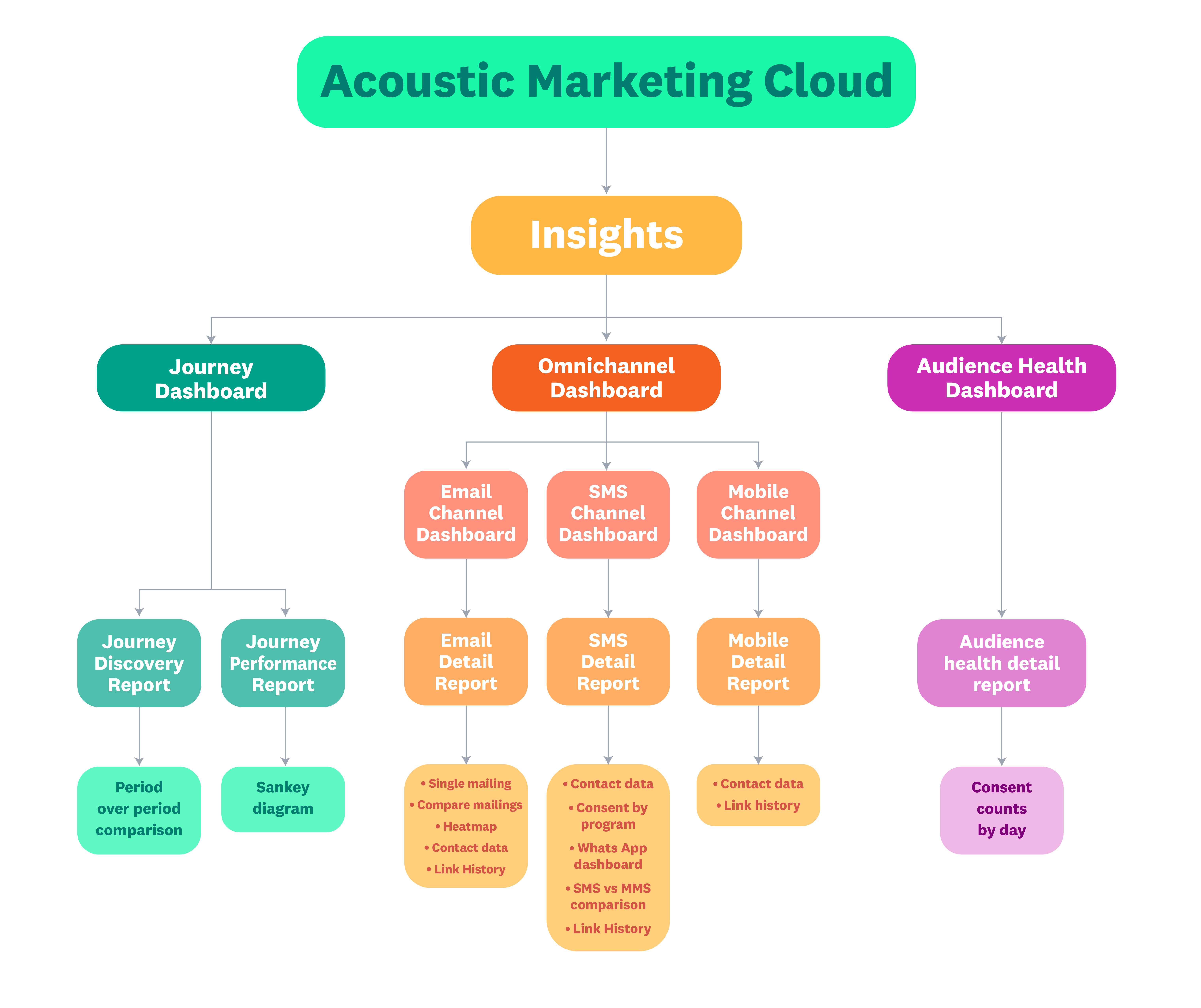 You can read more to find out how to View and interact with dashboards.