Acoustic Insights is a reporting tool that shows a selection of dashboards, helping you see the data your company collects, and making your work much easier and more effective. You can view your customers' data from various perspectives. 
It's an all-in-one platform that provides you with views of your most important metrics. You can slice and dice data the way that you need it, from high-level views to individual session data. You can then share it with your stakeholders.
We are continuously working on new features and improvements for Insights. All updates will be shared in the monthly newsletters and dedicated communications periodically along with updates in the help center.
To learn more about Insights, take our Acoustic Academy course.
How to access Insights
To access Insights, click on the Insights icon in the left navigation, and choose a dashboard you're interested in. 
Note: The dashboards you have access to will vary based on the settings and permissions assigned to your user account within your organization.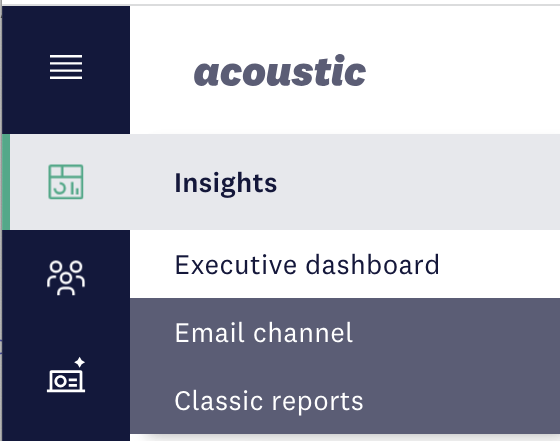 Organization of dashboards
You can also find all your dashboards inside the folders menu - click on the folder icon in the upper right corner.

Then choose Shared > Insights > Channel performance. You'll see folders: 
Email 
Mobile
SMS
WhatsApp
Navigate inside the folders to find contact-level reports and more.
Note: You'll also have your folder ("My Folder"), your favorites, and a group folder available for better organization of your reports.
You can read more to learn how to View and interact with dashboards. 
No data to display
In some cases, you might see that there is no data displayed inside your dashboards. What is the significance of the different symbols like NULL, ∅, and 0 in the visualization? How do they impact the analysis?
"NULL" is a result of calculations with no data. For instance, the gauge chart is a click rate calculation, it will return a NULL when there is no data. This might also be because of the type of visualization. 


"∅" appears when there is no data. You will see that symbol for subscriptions without Tealeaf data or even columns without data.


"0" results from calculations, specifically rates, that equal 0, such as click_rates. If there are 0 clicks and 15 delivered, 0 divided by 15 is 0. We don't need to worry about missing data in the denominator because our rates are based on successful delivery, ensuring that there will never be 1 click and 0 delivery.


"No Result" is dependent on the data and type of visualization. The line charts, such as the Performance summary of the BX trend report, depend on x-axis values, which can be existing or non-existing dates. If a date is present, you'll see the line graphs with dates on the x-axis, even if there are no values on the y-axis. The Journey summary report only shows data for MAILING names within the selected timeframe. If there are none, the table will be empty.

To eliminate the absence of data in the visualization, it is recommended to modify the filter settings. Consider expanding the time range and selecting additional channels for a more comprehensive representation.
Data availability timeline
How far back will data be available in Insights for comparisons?
We started recording events last year. By the end of 2023, almost all customers will have 450 days of historical data for comparison and analysis.