In the past, when you wanted to add users to Acoustic Campaign, you had to create an Acoustic ID in My Acoustic, then create a Campaign user ID, and then connect them. Now you add, edit and remove users in one place, which makes the whole process simpler and faster.
Add a user
To add a new user, go to My Acoustic, hover over the chosen subscription, click on the three-dotted icon, and select "Manage."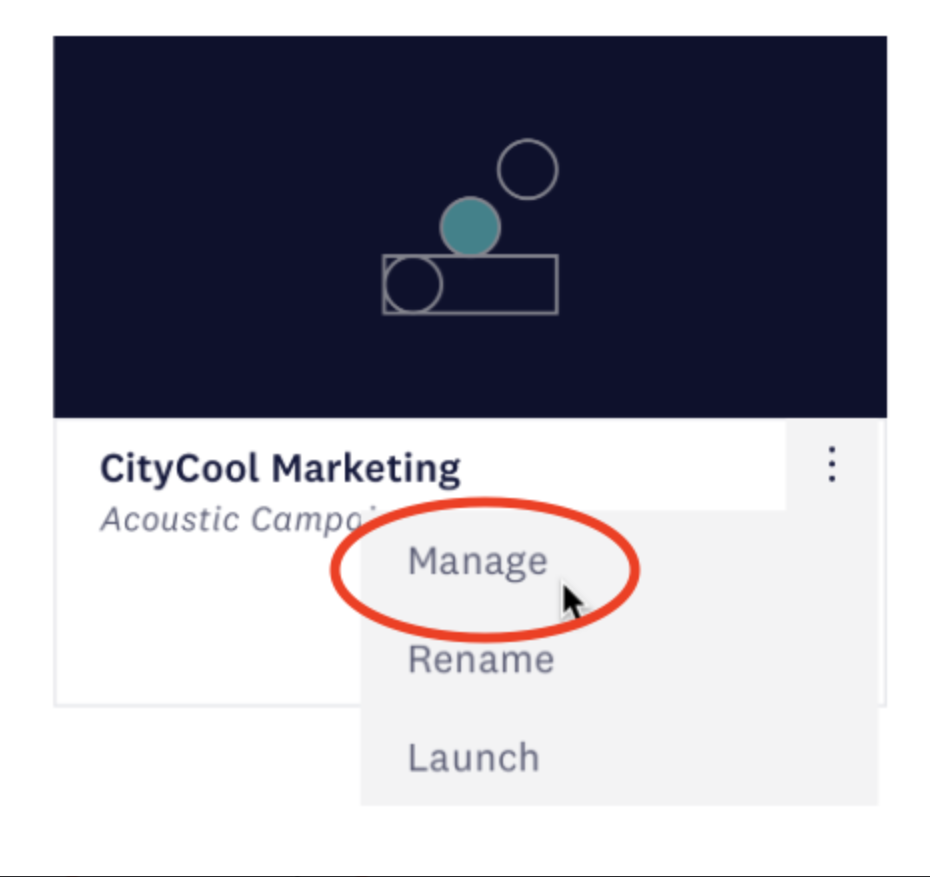 In the left-side menu, click Users. You will see a list of all users assigned to this specific subscription, even the ones added by a different admin from your organization.
The number of users you can add can differ depending on your subscription.
Then click the green button on the left: Add user.

You will see an Add user window.
Enter Acoustic ID (their email address which they will use to log in), name, and their role: it can be a Standard User, Reporting Only User, or Org Admin User. Find out more about the user roles and their permissions.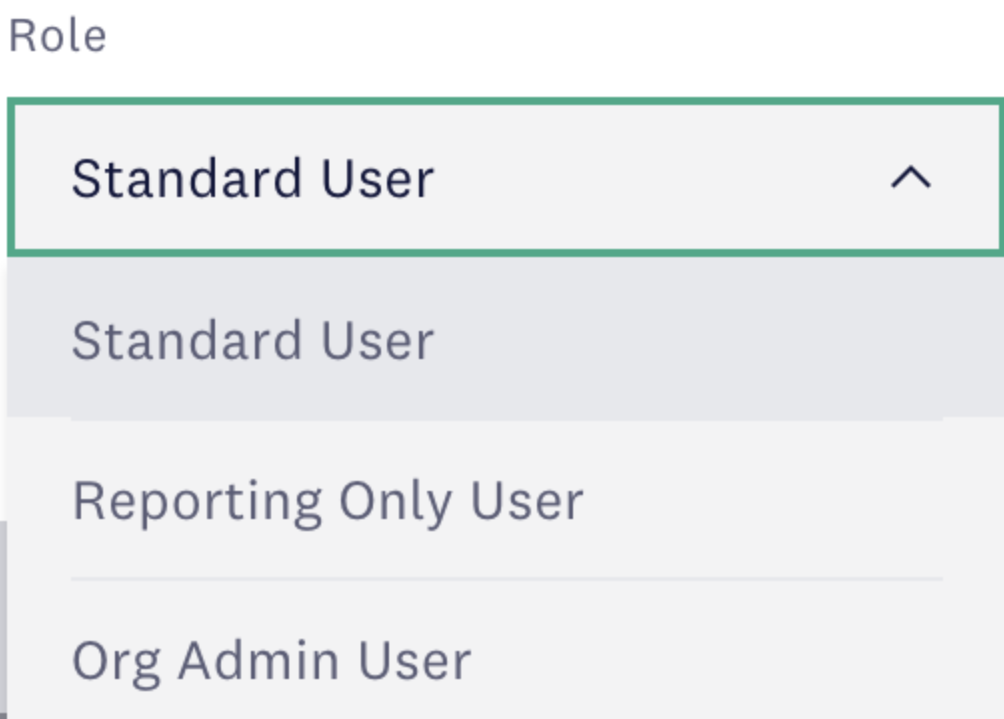 Click Add to save your new user.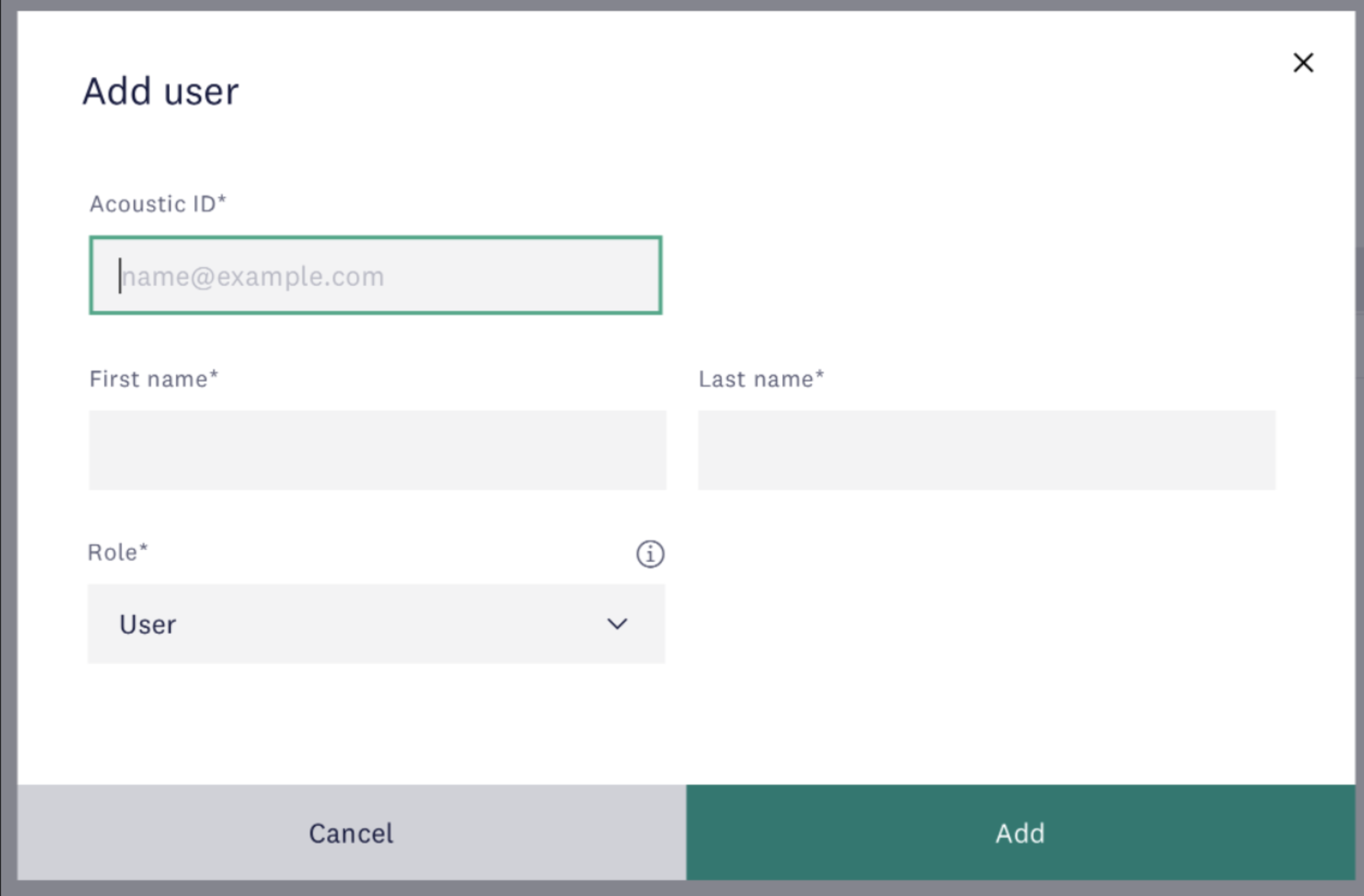 You will see a success message or an error message.

Contact Acoustic support in case of a server validation failure or a "too many users" error.
Note: After adding a new user for the Campaign organization, the user will receive an email from the Campaign Team (do_not_reply@acoustic.com) with the Campaign account password, first/last name, and organization name. They will need that password if they need to set up API integration, as currently, that requires a Campaign user name and password.
Edit user
Go to the Users section and click on the three-dotted icon next to the user you want to edit.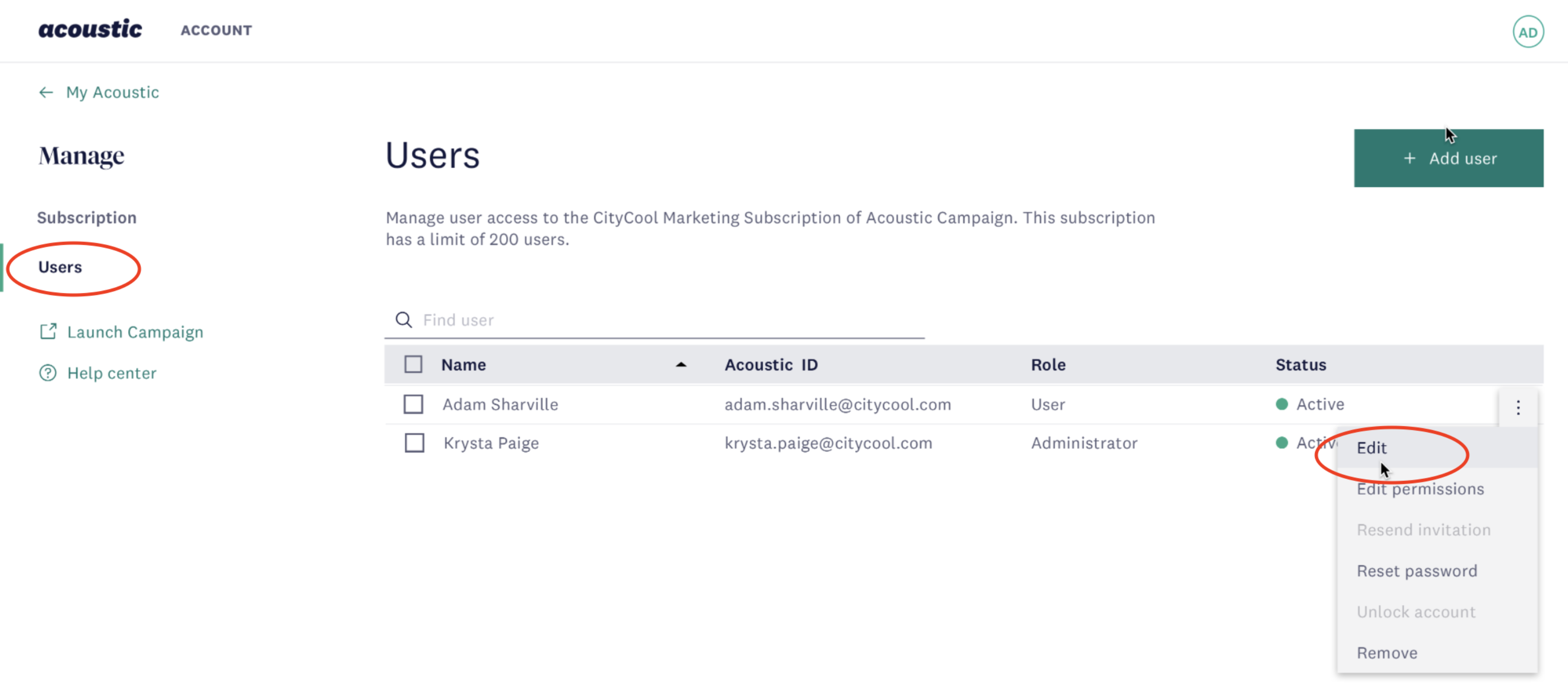 Click Edit.
You will see an Edit user window.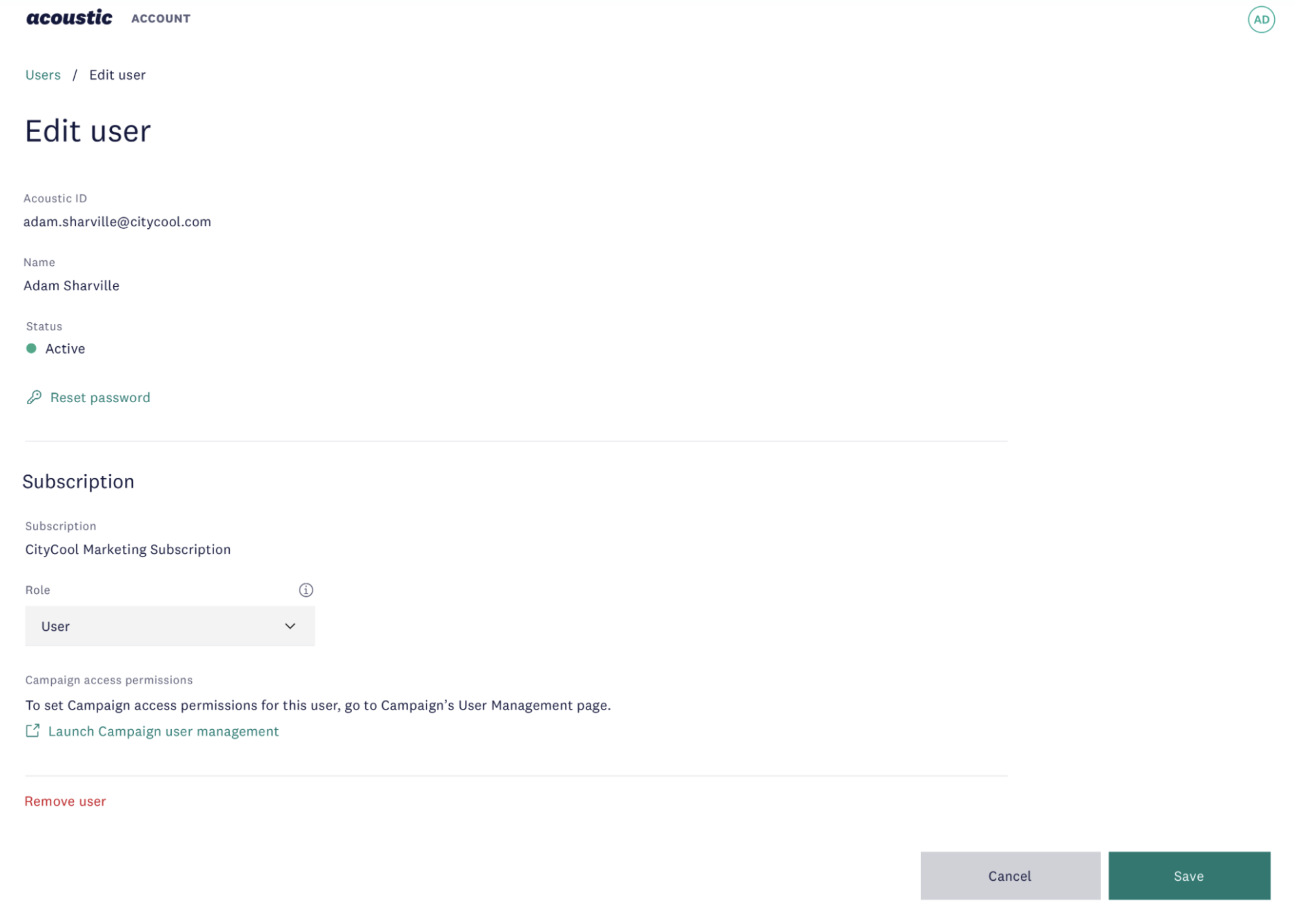 Here, you can change the role of the user. You can reset their password or remove the user.
Note: Due to the way Campaign's cache works, the change can take even up to an hour.
Edit the user's permission
You can edit users' individual access permissions. Hover over the three-dotted icon in the users' list. You will see a detailed list with checkboxes.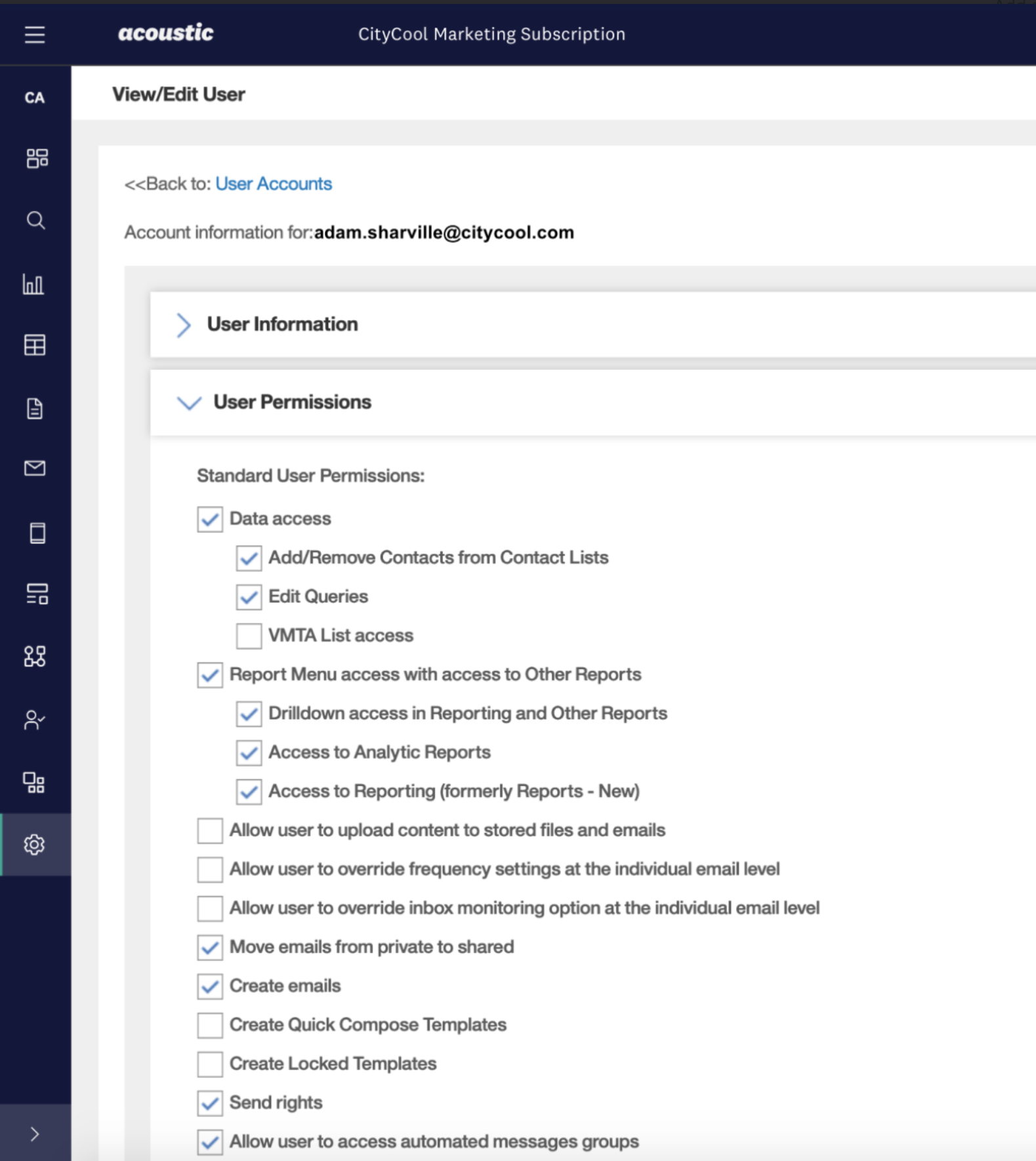 Choose the desired permissions and click save.
Remove user
You can do it two ways - in the edit window, as described above, or by hovering over the three-dotted icon in the users' list.
You will see a success message or an error message.
Troubleshooting
Unlinked users
If you do not have a My Acoustic account linked with a Campaign Account, your status will be "unlinked."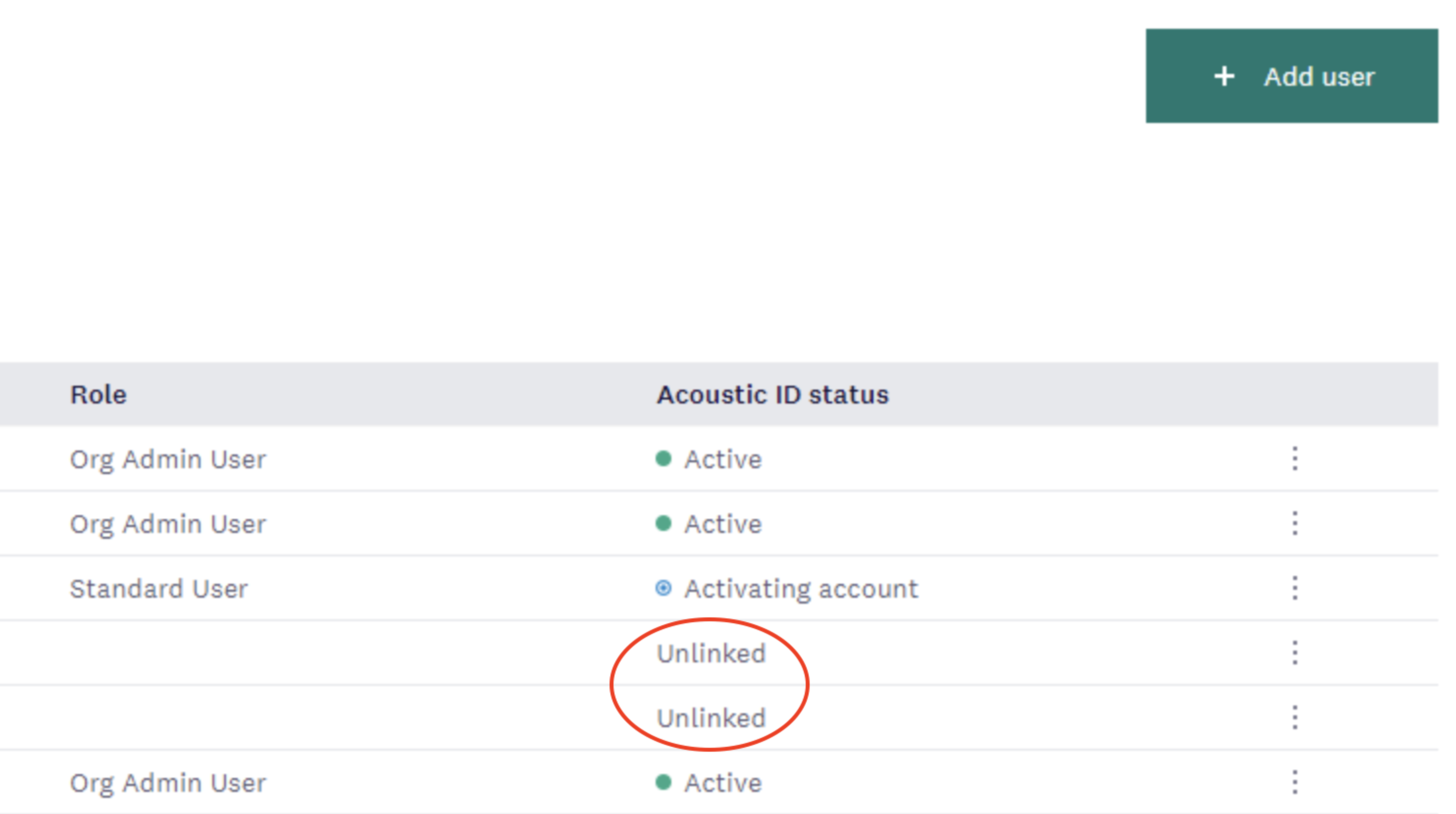 This means there was a problem while creating a new user or someone manually unlinked an existing user. The "unlinked" user needs to log in to Campaign - the system will ask them to connect their account.
Removed users
If you see a "removed" user in your user management, an Acoustic employee might have deactivated the person directly.

If you want to bring the user back, you need to re-add them, repeating the process from the start.

If you don't want that user, you can delete them or disregard them. They won't be able to log in to their account and use Campaign.
Disabled users
If a user hasn't logged in for the last three months, they will be disabled and appear in the disabled tab. If you want to re-enable the user, simply remove and then re-add that user in My Acoustic with the same My Acoustic email address. If a disabled user wasn't linked with My Acoustic, it could not be enabled.