What happens to your email after you hit "send"? How many people read it or click the links inside it?
The email channel dashboard gives you plenty of information to dig into and improve your future campaigns.
Data from the email channel dashboard will allow you to track your performance metrics and analyze advanced statistics for your email campaigns. You can use email insights, such as clicks, bounces, and purchases, to get reporting data and fully understand the success of each email you send.
Pro-tip: If email data is a priority to you, add it to your favorite dashboards by clicking on the heart icon. You will then see it in the Favorites folder.
View the email channel dashboard
To view the email channel dashboard, click on Insights > Channel Performance in your left navigation after logging into Campaign.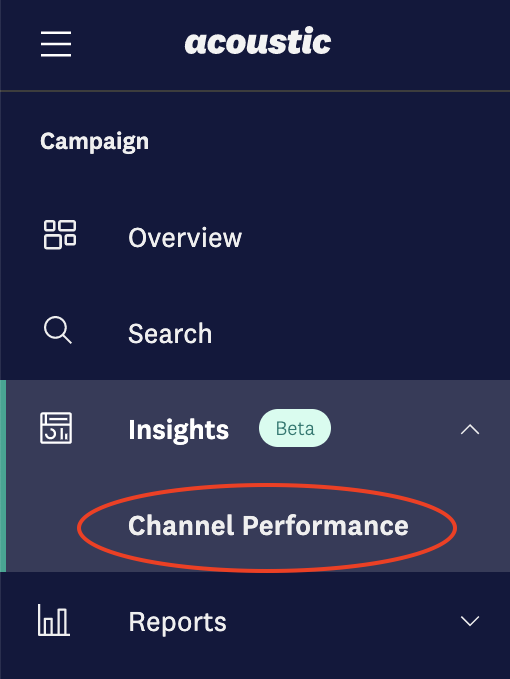 Additionally, you can access this dashboard from the options menu, located in the upper right corner of the dashboard.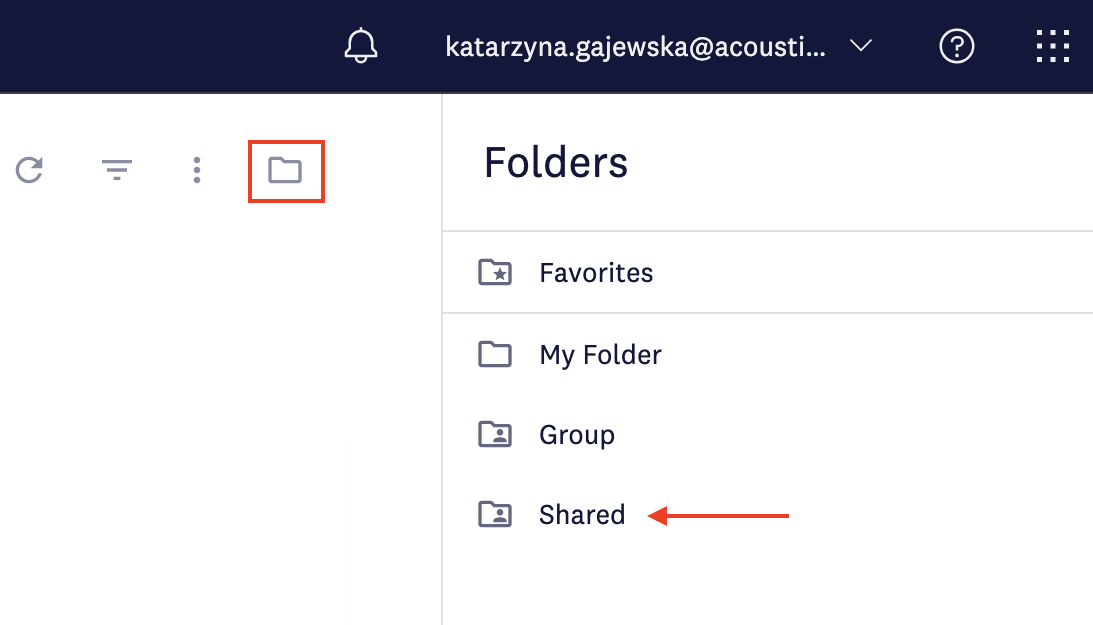 Select the Folder icon and you can find this dashboard under Shared > Insights > Channel Performance > Email.
Filters section

Adjust your campaign analysis with the filters section at the top of the dashboard to focus on the most important aspects. Any changes you make will be reflected in the whole dashboard. Depending on what data you want to see, you can change the following:
Journey type - you can choose Campaign or Journey.
Time - you can adjust the dashboard timeframe to display data from the past 7 or 14 days, current month, quarter, or year. 
Show bot clicks - by default, it excludes bot clicks from the reports, but you can choose to show them.
Name - you can search for campaign names by simply typing in the search bar. Suggestions will appear in the dropdown menu as you type. The arrangement of the content is in alphabetical order, starting with numbers, followed by uppercase and lowercase letters.
Note: The Name filter drop-down is limited based on your selection in the Time filter. E.g. if you select Current month, then you'll see only names from the current month's results.
Don't forget to click the Reload button in the right-upper corner to save the changes you've made in the filters area.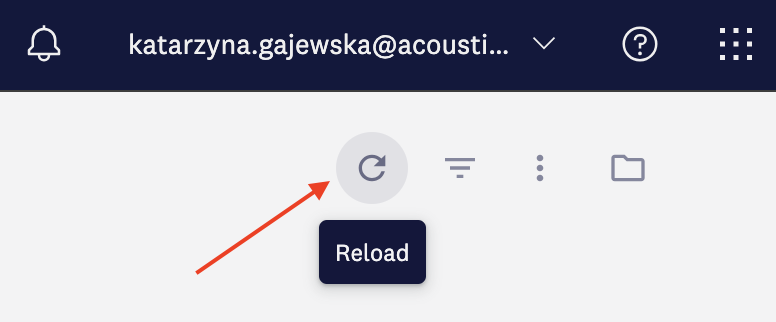 The

icon in the upper right corner lets you hide or show the filters' area.
KPI tiles
The first thing on your dashboard is the overview of all key data, like bounce and delivery rate. Now you can see what's working and what's not with just one glance. Furthermore, each KPI tile contains information about the specific period for which the data is presented.

Sends

The total number of emails that were successfully sent by the email service provider or system. This includes all emails that were successfully delivered, as well as any that were suppressed, bounced, or filtered out.

Undelivered

The number of email messages that were not delivered in the period selected in the filter.

Clicks (unique)

The number of individual recipients who have clicked on your email links, excluding multiple clicks from the same recipient.

Subscribes

The number of email recipients who directly opted to subscribe to future messages, generally from a web form or double opt-in process. This does not yet include bulk uploads of email lists, that functionality will be introduced in a future release.

Unsubscribes

The number of people who have opted out of receiving your email messages in the future.
Pro-tip: Read our data dictionary to learn more about the different metrics and datatypes.
Period-over-period calculations
The KPI tiles use period-over-period analysis, allowing users to compare important metrics from various time periods and track changes over time.
The filter labeled 'time' allows you to choose the period of comparison. For example, selecting 'Last 7 days' will compare the past 7 days to the 7-day period preceding it.
The analysis is displayed as an arrow & percent change in the bottom left corner of KPI tiles.
Arrows are tied to the change in number - if the number is bigger then the arrow points up, if the number is smaller then the arrow points down.

The arrow's color is based on whether the trend is favorable or unfavorable.
Example: if 'Unsubscribes' trends up, the arrow will be red because you want to retain subscribers on your list.
If there is no change in the data - there will be no arrow or percentage displayed.
Below the KPI tiles, you'll find your report widgets, that give you a more detailed look into your campaign performance. 
Performance summary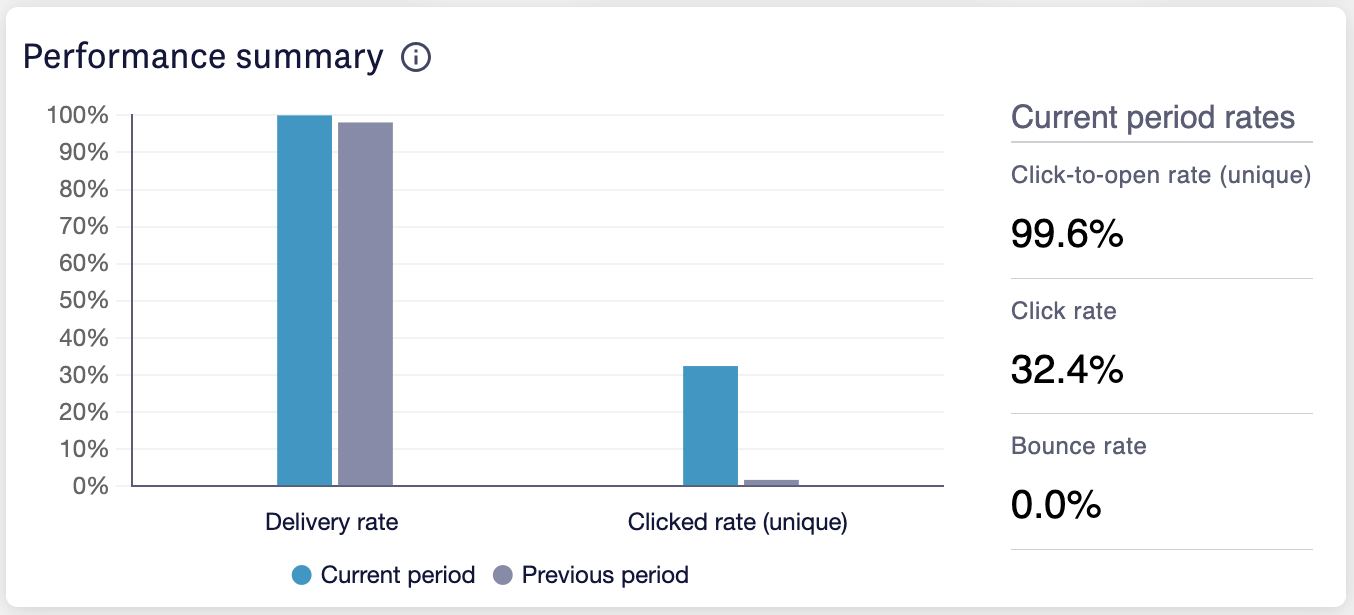 A visual comparison of the number of messages delivered and clicked during the current and previous periods.
Delivery rate - the number of emails successfully delivered to the recipient's inbox, without being filtered out or bounced back. This is a key metric for measuring the success of an email campaign or delivery system, as it indicates the percentage of emails that successfully reached their intended audience.
Click rate - a percentage of recipients who clicked on at least one link within an email out of the total number of recipients who received the email.
Top 5 undelivered reasons

Not all emails you send will be delivered, but if you want to continue growing your business, you need to know how many of your clients never got your message and why. Stay on the lookout for sudden dips (or spikes!) in deliverability.
Suppressed - the number of emails that were not sent to certain email addresses or domains, as a result of the organization suppression list or list level suppression. These emails are not counted as sent and therefore are excluded from the total delivery rate.

Organization suppression list - some organizations maintain a list of email addresses or domains they don't want to receive emails from, and if your email is on that list, your email won't be delivered.
List-level suppression - in addition to organization-level suppression lists, some email lists or mailing services may also have their suppression lists. These lists typically contain email addresses or domains that have previously bounced or reported as spam or that have requested to be removed from the list.

Bounced - the number of emails that were not successfully delivered to the intended recipient, usually due to an invalid email address, full inbox, or other delivery issues. These emails are returned to the sender with an error message and are typically not counted as delivered.
Invalid system email domain - sending emails from an unverified or invalid email domain may cause delivery issues because some email providers and organizations only accept emails from verified or trusted domains. Use a valid and verified email domain to ensure they are delivered successfully.
Red flag report

The Red flag report widget provides valuable insights into the performance of your email campaigns, focusing on opt-outs and hard/soft bounces.
Opt-out rate

The total number of opt-out events by number of delivered events, as a percentage.

Hard bounce rate

The rate of emails permanently undeliverable (such as misspelled email address or a closed or non-existent account) vs. the total number of emails sent.

Soft bounce rate

The rate of emails temporarily undeliverable (such as a full mailbox) vs. the total number of emails sent.
Opt-outs and bounces can serve as indicators of larger system issues or potential areas for improvement. By monitoring this data, you can proactively address any problems and ensure the effectiveness of your email communication.
Stay informed, and take action when necessary. The Red flag report is your guide to spotting important patterns and trends, helping you maintain a healthy and successful email channel. Keep a close eye on this widget to identify any spikes or trends that require your attention.
Pro-tip: Taking care of your email list health can help lower your undeliverability rate.
Click-to-open rate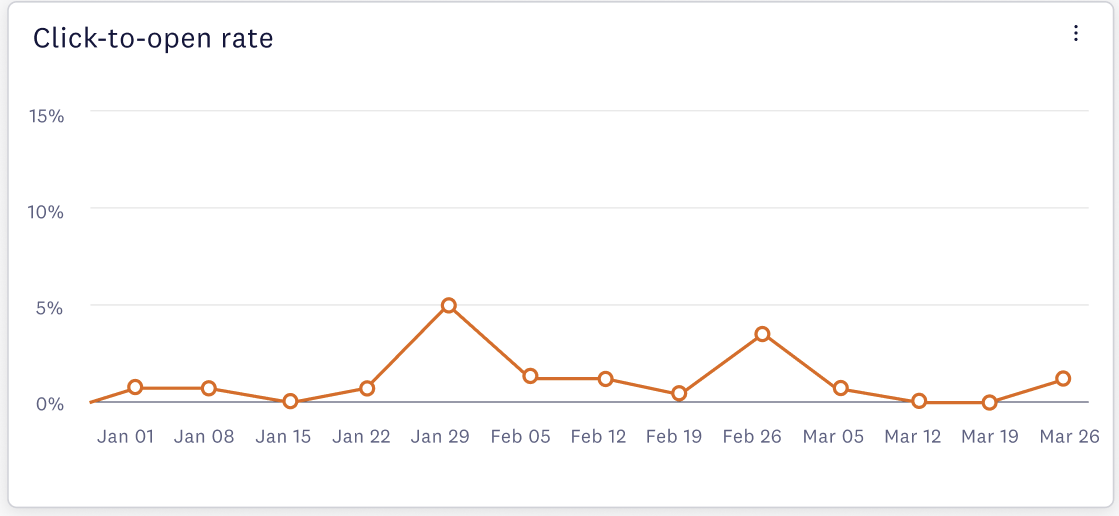 The number of opens compared to how many people clicked on any link inside an email. The click-to-open rate focuses specifically on the engagement level of those who opened the email.
Pro-tip: To increase your open rate, work on a better subject title for your next email campaign, and ensure the sender's email is easily recognizable. Find out what day and time gets you the most clicks and opens!
Open rate vs. click rate (by day of week)
The open rate is a measure of the percentage of delivered emails that recipients open, which indicates their level of interest in the content. Analyze patterns by day to identify peaks. Click rate, on the other hand, is the percentage of recipients who clicked on a link within an email. Assess which days generate higher click-throughs and interaction.
Comparing open rates versus click rates by day of the week helps you assess the effectiveness of your email campaign at different stages of user involvement. A high open rate suggests that your emails are enticing recipients to open and view the content, while a high click rate indicates that recipients find the content compelling enough to take action. By analyzing these metrics together, you can identify patterns and optimize your email campaigns to improve both open and click rates on specific days of the week.
Top engagements (by day and hour)

Now that you know how many emails were delivered, you can further analyze what happened to them. By using the top engagement widget, you can determine the clicks an email campaign receives at various times and on different days. By analyzing this metric, you can identify the best days and times to send your emails to maximize engagement and increase the chances of a successful email campaign.
To measure different aspects of engagement by day and hour, change the metrics in the filters section at the top of the page.
Analyzing engagement by day and hour can also help optimize campaigns for different time zones or international audiences. By understanding when your target audience will most likely engage with your emails, you can tailor the campaigns to be more effective and relevant.
Top 10 emails (by click-to-open rate)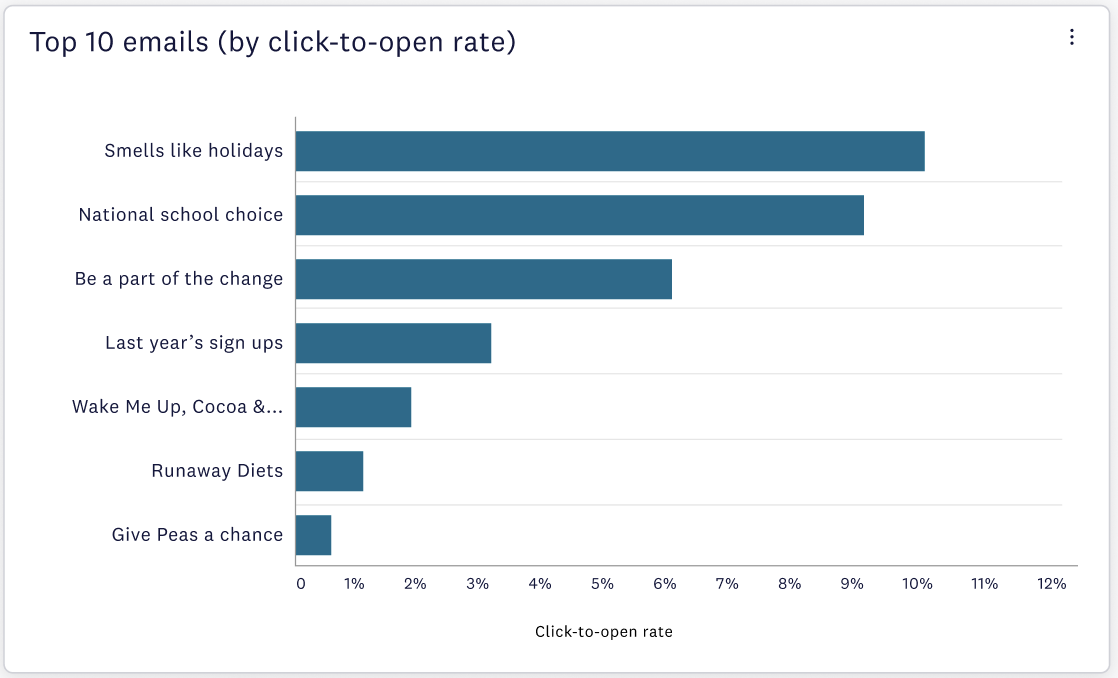 This report widget provides valuable insights into the effectiveness of email campaigns by highlighting the messages that achieved the highest click-to-open rates. It identifies the emails that resonated well with recipients, driving them to not only open the email but also take action by clicking on the links within the content.
Top 10 domains (by click-to-open rate)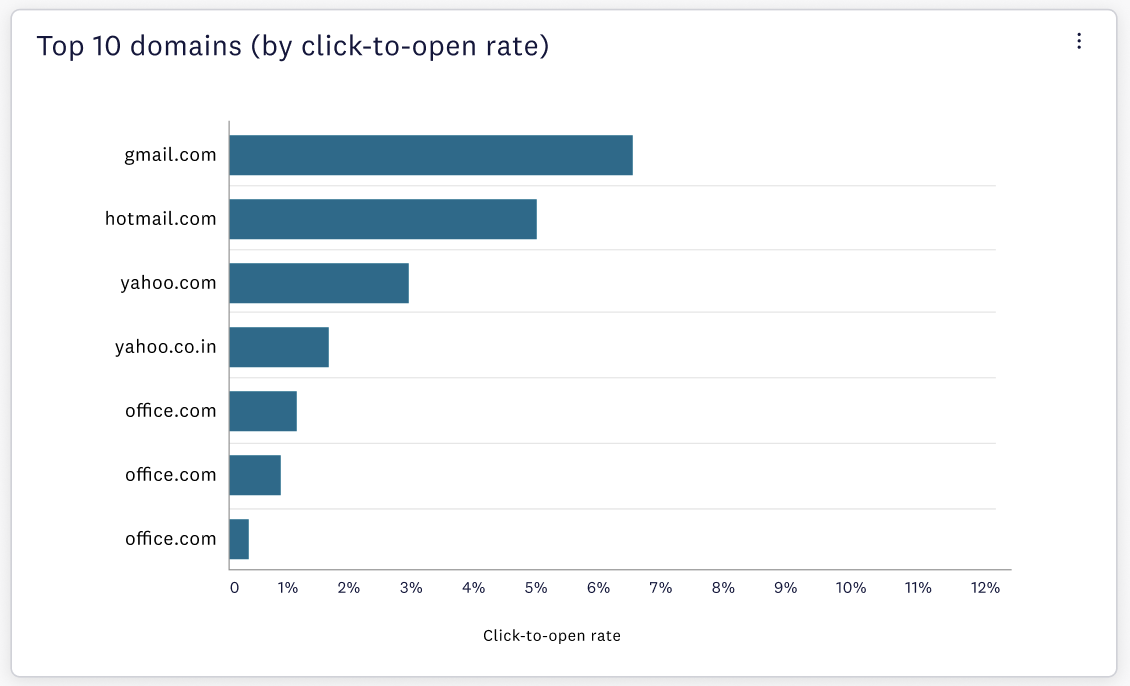 It shows you the top 10 most popular email domains your messages are going to. This information is essential when an email provider is blocking your emails. Use it to make sure you're not being blacklisted.
List of emails
A comprehensive list of all the email campaigns you have sent. It provides a summary of each email's open and click rates, allowing you to easily track their performance. The data is organized by campaign name and includes important metrics.
You may find the conversion rate particularly useful, as it indicates the percentage of users who have accomplished a specific task that is vital to the success of your business.

Alerts and tile actions
For each KPI tile and report widget, you can set alerts to be notified when a metric reaches a specific value. To set an alert click on the bell icon. Additionally, next to the alerts icon, there is a tile actions icon with different options available, depending on the type of data and your user type.
Both icons are visible when you hover over a specific tile or widget.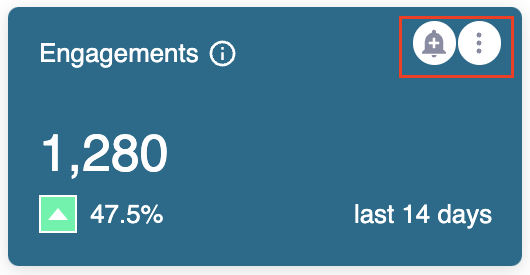 Alerts
To schedule an alert, click on the bell icon in the upper right corner of the KPI tile or a widget to see a popup window.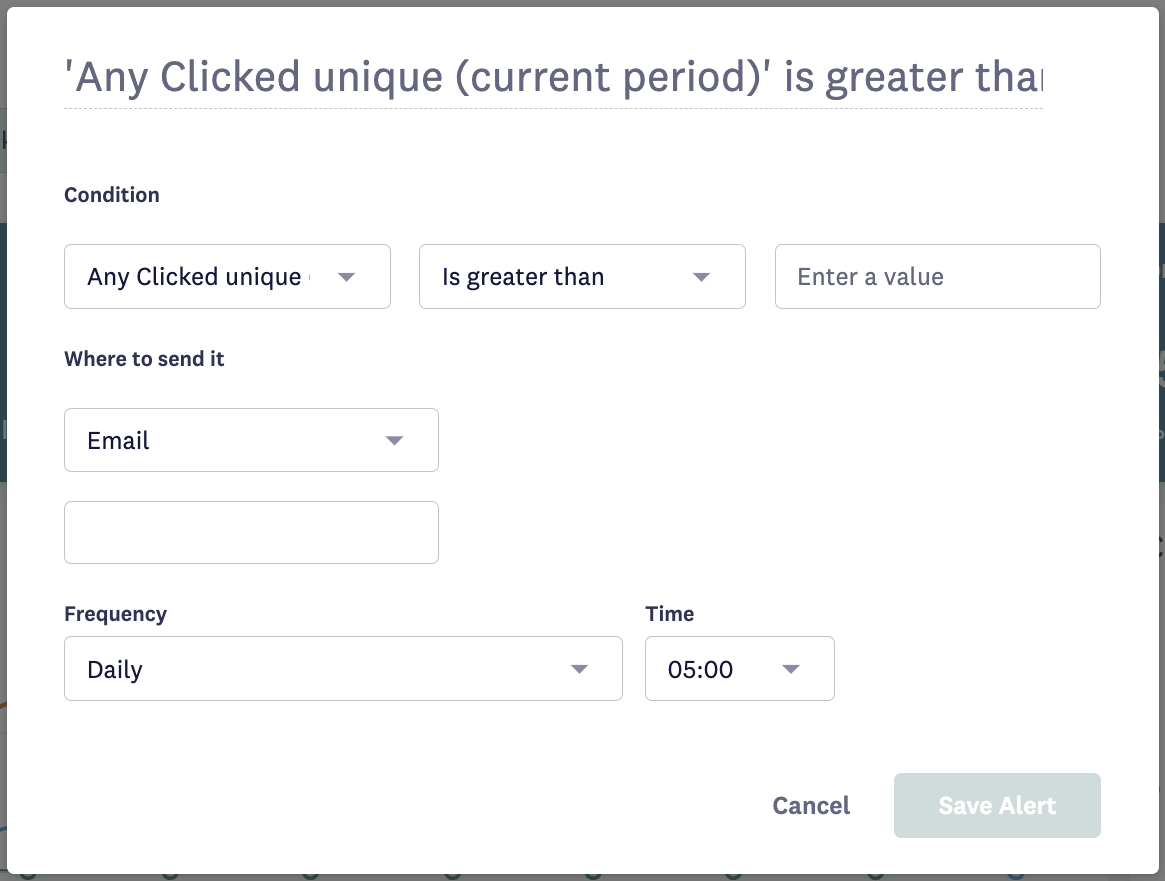 There, you can type in your title for the alert, set conditions, and frequency, and provide the email address to which you want to send it. Don't forget to save the alert! 
When you're done, you can access your alert: edit, duplicate, or delete. Or add a new one, with different conditions.
Tile actions
Additional tile actions are available after clicking on the three dots icon in the upper right corner of the KPI tile or a report widget, to expand the menu.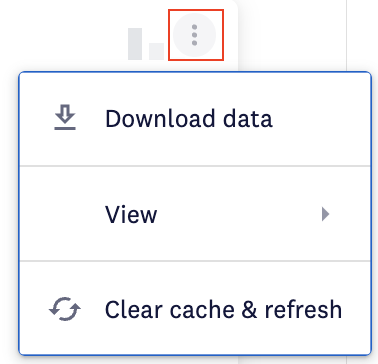 From here, you can:
Download data for a specific KPI tile or report widget.
View the expanded dashboard.
Clear cache & refresh the page.
When selecting the Download data, a popup will appear with format options as well as some advanced data options.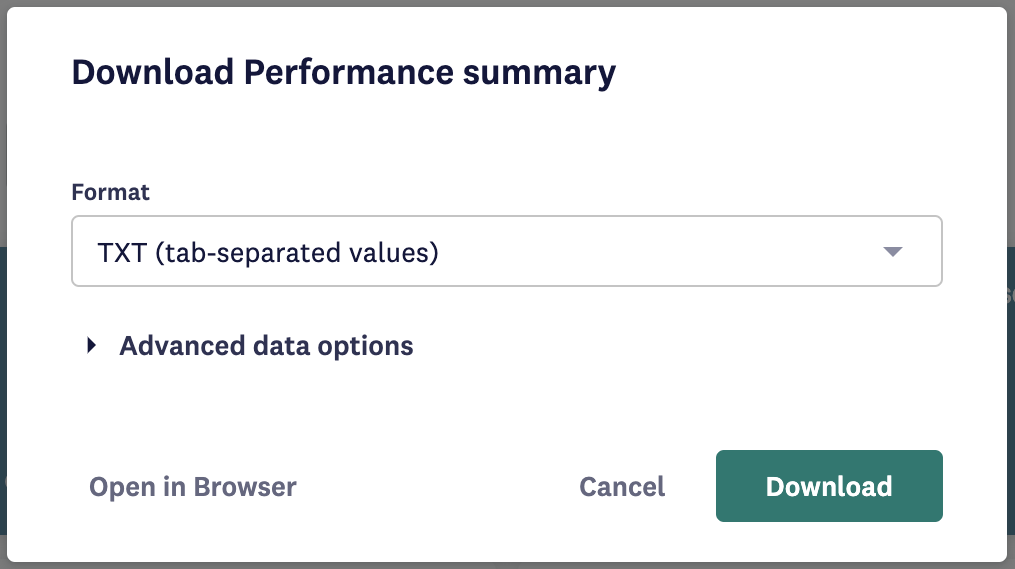 Be sure to check the advanced data options to adjust your results in terms of visualization, data values, and number of rows to include. Click the Download button to finalize.
Want to know what else can you do with the executive dashboard? Read more about how to View and interact with dashboards.
Contact level data
You can drill down into more details about your email campaigns. Find out more about Contact level dashboards.