You can monitor the effectiveness of your A/B test by using the performance details for your A/B test rule.
You can track the progress of your A/B test, by capturing and reporting the display count and the click rate that are received on each variant for that zone.
View the performance details for my A/B test
Ensure that you are on the zone details page.
Click Published rules.
Click action menu of the A/B test rule then click View details.
In the A/B test configuration pane, click Performance details.
Performance details for A/B test
A/B test status:

Complete: When the A/B test duration is over and statistical significance is reached, then the winning content would be calculated and selected by default.
In progress: When the A/B test is in progress and statistical significance is not yet reached, then the test continues to run. You can manually stop the test if required.
Paused - Inconclusive: A/B test rule is active and the end date is passed today's date but the statistical significance is not reached yet.
Stopped: A/B test rule is stopped.

Primary metric: Primary metric of the A/B test such as click rate.
Statistical significance: Percentage of statistical significance reached for the A/B test.
Winning content: Winning content is calculated when the A/B test rule is completed and the statistical significance is met.
Click rate by variants : This chart provides data about the click rate for each variant across a time period.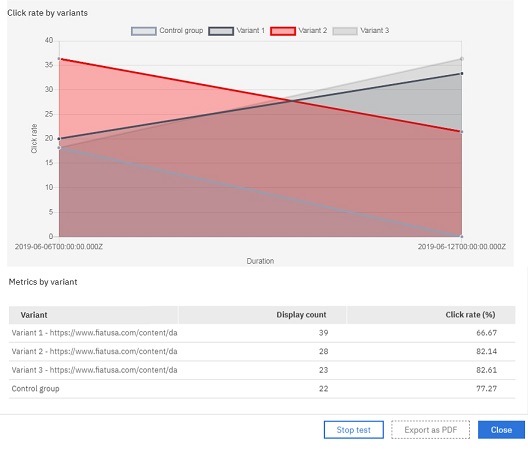 Metric

Definition

Calculation

Display count

Total number of times the variant is displayed on a zone.

Number of times the variant was shown in a zone in total. For example, if variant is displayed five times on a zone, the total would come as 5.

Click rate (%)

Percentage of total clicks on the variant out of the total number variants shown on a zone.

Calculation: Click rate = (Number of times variant is clicked / Number of times variant is shown) x 100

Table 1. Metrics by variants